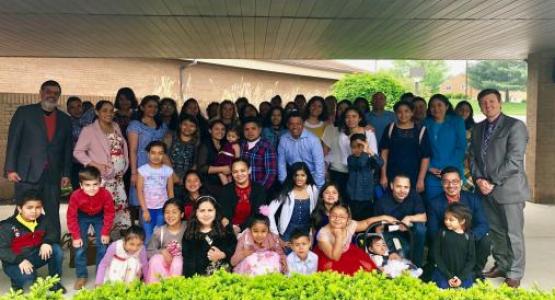 Hispanic Small Groups Celebrate 987 Baptisms
May 16, 2019 ∙ by vmbernard ∙ in Columbia Union News, Allegheny West Conference, Potomac Conference
Story by V. Michelle Bernard
This spring Spanish-speaking churches around the Columbia Union Conference participated in a highlight of Vida GPS (Healthy Small Groups) initiative, with a North American Division-led week of an internet-streamed evangelism series presented by Evangelist Alejandro Bullón. Leading up to the event, members participated in months of coordinated training, creation and nurturing of small groups in homes and churches that would eventually host the meetings.
Some 2,475 Spanish-speaking small groups participated. These groups, with more than 10,000 members, have celebrated 987 baptisms from January 1 to May 5 as a result of the initiative, says Rubén Ramos, vice president for Multilingual Ministries in the union.
Local leaders placed a special emphasis on growing the amount of small groups, which increased from 900 groups in 2017. Hispanic Ministries leaders are praying for 3,000 small groups by the end of 2019.
One highlight from the initiative was when members from a small group of youth in Potomac Conference's Alexandria Spanish (Va.) church welcomed Karim to their meeting. Karim, who was Muslim, made a connection during the meetings with Pastor Omar Fismed, whose family came from Palestine. At the close of the meeting, as 20 people prepared themselves for baptism, Fismed gave a final appeal, and Karim came forward to give his life to Jesus. He is now trying to establish a small group, said Ramos, who adds, "He was a deeply committed Muslim. And now with the same commitment, he is trying to help bring his family to Christ."