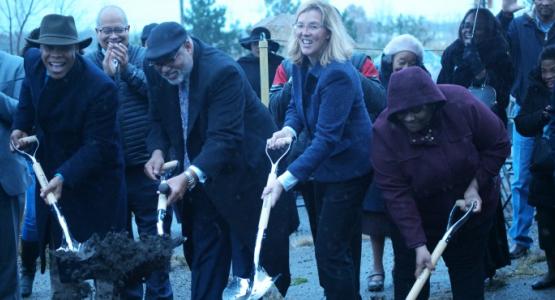 Grace Community Realizes Dream, Breaks Ground
April 09, 2019 ∙ by Web Administrator ∙ in Allegheny West Conference
Story by Dewain Hall
The Grace Community church recently celebrated a milestone in its congregation's history. Members gathered together to break ground for a multimillion- dollar state-of-the-art worship center. Three years ago, Grace Community moved to the Cleveland suburb of Euclid, Ohio, home to 48,000 people. The congregation purchased an old K-mart building that will be renovated and transformed into a ministry hub. The groundbreaking served as a great step toward the realization of this dream.
Freddie Russell, former Allegheny West Conference president, kicked off the event with a powerful sermon, encouraging the members to press on and take hold of what God has prepared for them. Current President William T. Cox Sr., Executive Secretary Marvin Brown and Treasurer and CFO Jermaine Jackson joined the celebration. Cox stated he believed the location they chose and the congregation "would be the model we would follow in AWC for growing the conference and sharing the vision in preparation for Jesus to come."
Kirsten Holzheimer Gail, Euclid city mayor, believes Grace Community will be a perfect fit for the city's "Faith in the City" campaign, which highlights the power of community and faith. The mayor, joined by Councilwoman Taneika Hill, enthusiastically welcomed the congregation to the city. Hill has worshipped at the church several times and is excited about its worship, fellowship and outreach commitment.
This is not the first move for Grace Community. The first official church home was purchased in 1918 in Cleveland. Soon, the congregation moved to 71st and Cedar Avenue. The next move would occur in 1949, as the members moved to the historic Glenville area, located on the corner of Elgin and 105th. The journey from Cedar to Glenville to Grace (Euclid) is the result of God's guiding hand leading the congregation to fulfill its destiny in proclaiming the three angels' messages. Pastor MyRon Edmonds states, "The groundbreaking was meaningful for me because it reminded us all that with God all things are possible." Grace Community is excited about what God has in store. "The vision is to be the head and not the tail in terms of our quality of ministry," Edmonds explains. "We want to have a facility that helps as many people as possible experience God's grace in as many ways as possible before Jesus returns. Essentially, we want a facility that can emulate the ministry of Jesus."