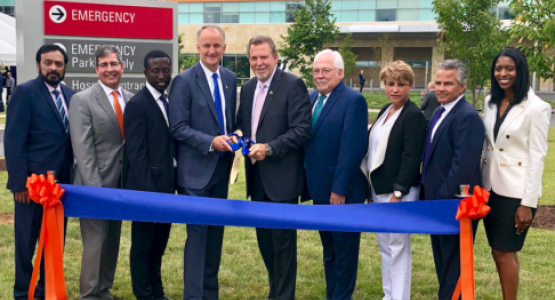 Adventist HealthCare White Oak Medical Center Board of Trustees Participate in Ribbon Cutting Ceremony
August 19, 2019 ∙ by vmbernard ∙ in Columbia Union News, Adventist HealthCare
Adventist HealthCare
 (AHC) Board of Trustees (pictured), hospital staff and elected officials gathered today for the ribbon cutting ceremony of the new AHC White Oak Medical Center in Silver Spring, Md.
"Today is a chance to say thank you to so many people that made this day a reality," said Terry Forde (fourth from left), president & CEO of Adventist HealthCare, prior to the ribbon cutting.
"We are here on behalf of our constituents, 720,000 Marylanders, to thank you for the care you will deliver and for the incredible mission that anchors Adventist HealthCare," stated Congressman John Sarbanes.
Patients will officially move from the Washington Adventist Hospital, located in Takoma Park, Md., to the new facility during its grand opening, August 25.