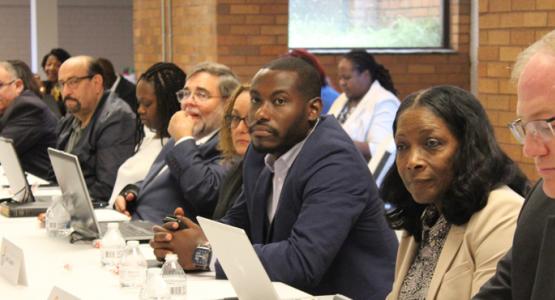 Union Committee Invites Members to Special Day of Prayer
September 18, 2018 ∙ by vmbernard ∙ in Columbia Union News
Story by Visitor Staff
Members of the Columbia Union Conference Executive Committee (some pictured above) traveled to Columbus, Ohio, last month for their third quarter meeting at the Allegheny West Conference's newly opened headquarters.
At the news that tithe rose by $6 million or 9.09 percent above the previous year, the committee paused for a prayer of thanksgiving. "This would not be possible without the faithfulness of our members," said Emmanuel Asiedu, union treasurer.
They also rejoiced when Frank Bondurant, vice president for Ministries Development, announced that 55 churches have been planted unionwide this year.
RELATED ARTICLE: Official Statement: An Appeal From the Columbia Union Conference Executive Committee
The committee discussed the upcoming Annual Council where church leaders will consider adopting a new system to address "noncompliance" with certain policies and actions. While it considers further action, the committee calls members to set aside the Sabbath during Annual Council, October 13, as a day of prayer. "This has moved way beyond ordination. It challenges our Protestant DNA, values and grassroots governance, and means we would become a more top-down organization," says Dave Weigley, union president. "Let's pray that the decisions will advance mission and not constrain the moving of the Holy Spirit." 
READ MORE: Columbia Union Leadership Invites Members to a Special Day of Prayer
This article was updated September 19.