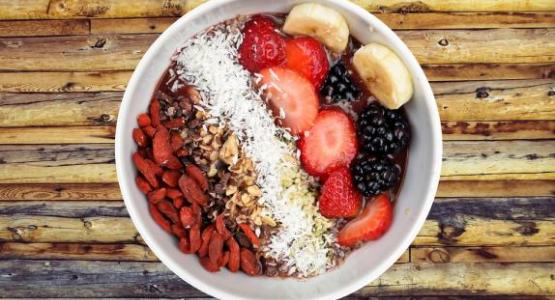 Make Over Your Lunchbox With These Recipes
June 28, 2017 ∙ by vmbernard ∙ in Health & Lifestyle
Potomac Conference's Lynchburg (Va.) church recently hosted "Lunchbox Makeover," its second healthy cooking class. Try some of the recipes that presenter Liz McLennan shared.
Breakfast
MUESLI FOR ONE
1/2 cup quick-cooking oats
1/4 cup diced dried fruit (apricots, dates, and dried cranberries are good together)
1 cup almond milk
1 tablespoon nuts of your choice (optional)
1 tablespoons honey or some mashed banana shredded raw coconut (optional)
fresh fruit
Place oats into a bowl and add all the ingredients except fresh fruit. Let sit overnight in refrigerator. In the morning add the optional nuts and fresh fruit. Add more milk if needed. Serve cold or at room temperature.
Note: The nuts may be added the night before. If they are added, they will soften. Also, if the dried fruit is added overnight, the raisins for example will plump up.
SCRAMBLED TOFU
16 oz. firm or extra firm tofu
1 Tbsp. low sodium soy sauce or Braggs Liquid Aminos
1 tsp. onion powder
3 Tbsp. Nutritional Yeast or Brewers Yeast
1⁄2 tsp. salt
1/8 tsp. turmeric
Drain tofu and crumble or dice into small pieces. Combine with remaining ingredients. Spray skillet with pam and heat over medium heat. Simmer uncovered, turning often to prevent sticking. Until slightly browned and liquid has evaporated.
LUNCH
TOFU SALAD SANDWICH
Add Vegenaise to leftover Scrambled tofu until not dry. Use as a sandwich spread.
TOFU MAYO
This is a delicious mayonnaise substitute, without all the fat found in commercial vegan mayonnaise. Use this in any of your favorite recipes calling for mayonnaise.
Preparation Time: 10 minutes
1 package silken tofu
2 tablespoons lemon juice
1/2 teaspoon salt
Place all of the ingredients in a food processor and process for 2 minutes to form a smooth puree. Taste and adjust seasonings, as needed. Transfer to an airtight container and store in the refrigerator for 7-10 days.
MOCK TUNA SPREAD
Servings: makes 2 cups
Preparation Time: 15 minutes
Chilling Time: 1 hour
1 15 ounce can garbanzo beans, drained and rinsed
1 stalk celery, finely chopped
1⁄4 cup finely chopped onion
1⁄4 cup finely chopped green onions
1 tablespoon lemon juice 1⁄4 cup Tofu Mayo
 
Place the beans in a food processor and process until coarsely chopped, or mash with
bean masher. Don't let them get to a smooth consistency.
Place in a bowl and add remaining ingredients. Mix well. Add a bit more Tofu Mayo if you want a creamier spread. Chill to blend flavors.
ENGLISH MUFFIN PIZZA
English Muffins Original
Tomato sauce
Black Olives sliced
Fresh Pineapple diced fine
Fresh Spinach
Fresh Mushrooms sliced
Artichoke hearts
Kalamata Olives sliced
Caramelized purple onion
Zucchini sliced thin
Scrambled Tofu
Sundried tomato sauce
Vegan Parmesan
Italian Seasoning
Sundried Tomato Sauce
1/3 c. raw cashews
2 Tbsp. nutritional yeast
1⁄4 tsp. salt
2-3 garlic cloves
1 tsp. cornstarch
1⁄2 c. plain unsweetened almond milk or water 1 tsp. fresh lemon juice
1⁄4 c. sundried tomatoes
Blend till smooth.
Vegan Parmesan (Freezes Well)
1⁄2 c. raw cashews
1⁄4 c. slivered almonds (or almonds with skins off) 3 Tbsp. Nutritional yeast
1 Tbsp. Garlic powder
1⁄4 tsp. salt
Blend in food processor till parmesan consistency.
Split English muffins and lay out on cookie Sheet. Cover tops with 1 Tbsp. tomato sauce and 1⁄2 Tbsp. sundried tomato sauce. For simple pizza just use
tomato sauce and crumble small pieces of scrambled tofu on top. Sprinkle with Vegan Parmesan and cover with toppings of your choice. Sprinkle tops with parmesan, salt and Italian seasoning. Bake at 450 degrees for 15 minutes. Until bottom is brown and veggies are crisping.
LEMON SALAD DRESSING
1 lemon squeezed
10 twists of pink sea salt 1⁄4 tsp. onion powder
1/8 tsp. garlic powder
Combine in a small bowl or dressing container. Keeps well in fridge. Add vegan parmesan to salads with this dressing. Can add mashed up Avocado to dressing for a creamier version.