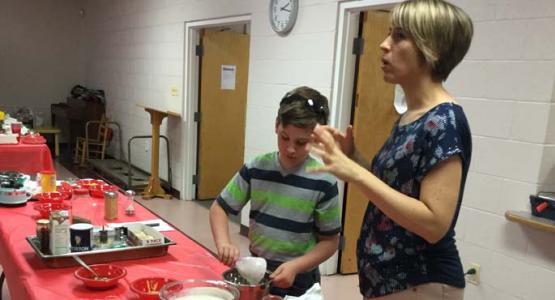 Lynchburg Church Offers Lunchbox Makeover
June 28, 2017 ∙ by vmbernard ∙ in Potomac Conference, Health & Lifestyle
Story by Shannon Kelly
Potomac Conference's Lynchburg (Va.) church recently hosted "Lunchbox Makeover," its second healthy cooking class. This free class taught attendees how to cook easy, tasty vegan meals and educated attendees with nutrition facts and tips for having an overall better quality of life, starting with their diet. In addition to cooking demonstrations, volunteers offered free blood pressure checks and health and Seventh-day Adventist literature.
More than 40 men, women and children of all ages attended the event for various reasons. "I need to lose weight," Jim Harmon said. "I am hoping to learn about [portion sizes] and also things that I can use on my daily basis," Luiza Martinez shared. Ten-year-old Miko attended because she "doesn't really know how to cook" and wanted to "learn to cook healthier."
Patricia Richardson, M.D., M.P.H., opened the event by asking the audience, "Why do we eat what we eat?" The predominant response was "convenience." With such easy access to inexpensive and often times unhealthy fast food, busy individuals said they found it much easier to buy pre-made food rather than take the time to cook healthfully. Richardson continued by explaining that the human body is the temple of God and that it is important to treat it as such. She encouraged the audience to eat food the way God intended: unprocessed and unmodified. 
Following Richardson's devotional, Lynchburg church members Liz McLennan and Nicole Toledo shared cooking demonstrations for breakfast and lunch dishes and snacks that could help attendees create healthier meals.
Children eagerly volunteered when the demonstrators called for audience participation. The young people helped prepare the meals alongside the presenters, who shared nutritional information while cooking, such as how to portion foods, good sources of Omega-3 other than fish oil, how nutritional yeast provides a cheesy flavor in a healthy way and remedies for constipation, such as natural laxatives for those who struggle with uncomfortable gut issues.
In closing volunteers shared a nutritious spread of all the demonstrated meals. Richardson and McLennan also facilitated prize drawings for gifts like vegan cooking products and food storage containers.
"There are so many ideas of 'healthy cooking,'" participant Martinez said, "but it's better to hear it from people that actually eat what they share … since they eat it, means it will be good!"
The event was funded in part by an Evangelism grant from the Potomac Conference.
Try some of the recipes here!