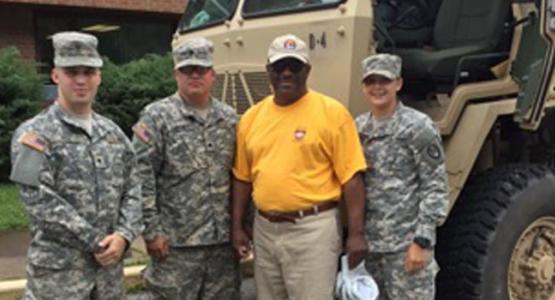 Columbia Union Sends Crisis Counselors to Assist Flood Victims
July 07, 2016 ∙ by vmbernard ∙ in Columbia Union News, Allegheny East Conference, Mountain View Conference
Robert Smith, pastor of the Allegheny East Conference's First Church in Teaneck N.J., has assisted in recovery efforts for the last five major hurricanes over the last 30 years. And, he's again helping victims, this time in West Virginia, where floodwaters killed at least 25 and left thousands homeless.
On Monday Smith (pictured above with members of the National Guard) and Lee Kimani (pictured below), pastor of the Angaza Sharon church in Newark, Del., arrived in Lefthand, W.Va., an area northwest of Charleston. Smith reports that they've knocked on doors, visited 20 churches of all faiths and have counseled 50 families, provided prayer and connected victims to FEMA and Red Cross resources.
Smith says some of the rural Appalachian residents, some of whom have lost everything, are hesitant to open their doors to trangers, but have received a very positive response. "The only universal language when you're going through a crisis is love."
Get Involved Now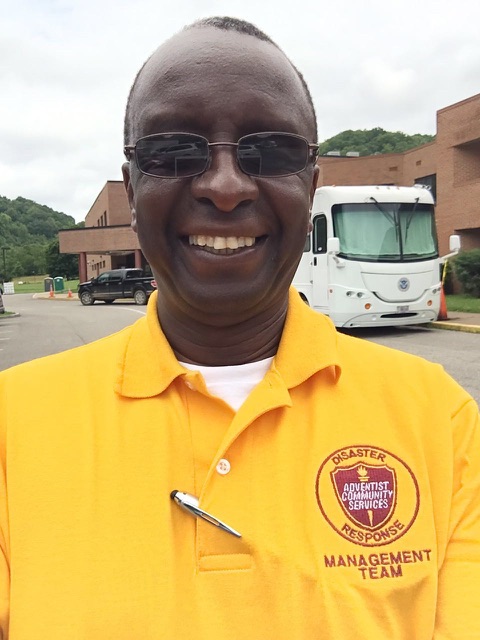 At home in New Jersey, Smith is active in Adventist Community Services (ACS), sits on the state of New Jersey's long-term recovery committee and is a chaplain for the Atlantic County Law Enforcement Agency. He urges potential volunteers to connect with local agencies like ACS, the Red Cross, Catholic Relief and others before events like this happen. "Join now and get trained, not when the crisis happens, but before it happens. What you fail to do in the time of peace and prosperity, you're going to have to do in the time of trouble," he says.
Smith and Lee are part of a team sponsored by the Columbia Union Conference, serving in West Virginia. The team includes volunteers from the Mountain View Conference and from Tennessee that are running a supply distribution house for flood victims.