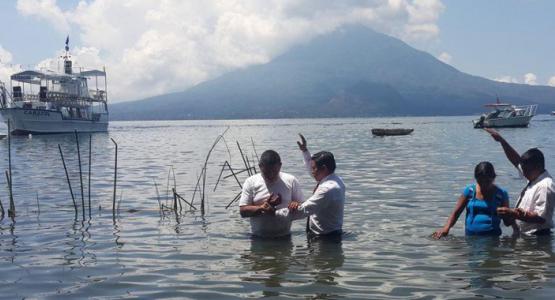 Adventist Church Tops 19 Million Members
April 04, 2016 ∙ by vmbernard ∙ in Columbia Union News
Story by Andrew McChesney / Adventist Review
The Seventh-day Adventist Church's official membership has topped 19 million for the first time in history, and the number of local churches has doubled worldwide to more than 80,000 in just two decades, according to newly released figures.
The Adventist Church had 19,126,447 members as of Dec. 31, 2015, a net increase of 647,144 people, or 3.5 percent, from the previous year, the church's Office of Archives, Statistics, and Research said.
In another statistical milestone, the church has 81,551 local churches plus 69,909 companies, it said.
"The 2,741 new churches organized in 2015 are the most in any year in our history, surpassing the 2,446 in 2014, which was the previous record year for new local churches," said David Trim, director of the Office of Archives, Statistics, and Research. "We only passed 40,000 churches in 1995."
The growth comes even as the church, founded in 1863 with only 3,500 members, undergoes a comprehensive membership audit to ensure that reported statistics reflect the reality on the ground.
"Praise God for the wonderful growth," said Ted N.C. Wilson, president of the Adventist world church. "It tells me that even with the appropriate and careful auditing of membership records worldwide that Secretariat has initiated in the last few years, God's Word is going forward in a marvelous way through the power of the Holy Spirit, and God's work is expanding."
G.T. Ng, executive secretary of the Adventist world church, whose Secretariat office initiated the audit, echoed Wilson's joy about the figures showing church growth.
"The rapid church growth is a testament of the promise in 2 Chronicles 20:20, 'Believe in the Lord your God, and you shall be established; believe His prophets, and you shall prosper,'" he said. "The church has prospered because we have been faithfully following God's instructions in Matthew 24:14 to evangelize the world."
Lifeblood of Growth: New Churches
The Adventist Church, which is organized into 13 divisions and two attached fields, saw its fastest growth last year in the West-Central Africa Division, where membership swelled by 7.6 percent to 683,318 people, Trim said.
The two divisions with the most net accessions were the Southern Africa-Indian Ocean Division and the South American Division. In the Southern Africa-Indian Ocean Division, Zambia saw its official membership pass 1 million in 2015, while major evangelistic meetings in Zimbabwe led to 30,000 baptisms last May. Part of the South American Division's growth, meanwhile, came from an increasingly active and widespread program to reclaim former members. The Adventist Review reported last April that 15 percent of South American baptisms were of former members.
But the engine — the life-blood — of church growth is the opening of new churches, said Gary Krause, who oversees church planting as director of the Office of Adventist Mission and associate secretary of the Adventist world church. He said he was heartened to see that last year a new church was established every 3.2 hours, in addition to many more groups and companies.
"I encourage every church to not only focus on growing their existing church, but to pray and plan on ways to start new groups of believers," Krause said.
Wilson expressed particular delight in the news about newly established churches.
"This signals strong growth for the future as people reach out to their neighborhoods and beyond in planting new churches using every means possible, including small groups, literature, comprehensive health ministry, media, community services, youth outreach, and public evangelism," he said. "This is God's work as He has nurtured people working with Global Mission/Adventist Mission in reaching many areas where we did not have work before. This is a direct fulfillment of Matthew 28:19-20."
Among the other noteworthy figures in the new statistics report:
Although the 19 million-member mark is significant, the more vital number — which can't be determined through member audits — is the percentage of engaged and discipled members who are actively sharing their faith, Trim said.
"A more accurate statistical picture of the church's membership is a first step to the personal growth and renewal that we are all praying for," Trim said. "We know that when our church members are also active and fruitful disciples, then membership growth will follow."
A total of 59,152 deaths were reported in 2015. This was slightly fewer than 2014, but 2014 and 2015 were the two years with the highest reported numbers of Adventist deaths ever, Trim said. "That of course is unsurprising because of the increases in membership," he said. But he also linked the increase in reported deaths to the membership audits.
Membership decreased by about 710,000 due to members leaving or being registered as missing in audits. The equivalent figure in 2014 was some 763,000. "This probably reflects the fact that some divisions finished off a program of comprehensive audits and others have not really implemented these very far, rather than us being at the end of the period of large-scale deductions," Trim said.