Community Members Turn Out for Allegheny East Church's Typhoon Fundraiser
November 20, 2013 ∙ by cmckenzie ∙ in Chesapeake Conference
Story by Taashi Rowe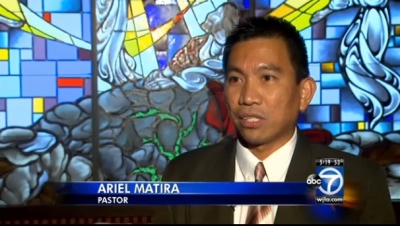 Pastor Ariel Matira speaks about the Oxon Hill church's fundraising efforts on a local news program.
The images on Quang Ngo's TV screen were graphic. It showed just how devastating an impact that Typhoon Haiyan had, not just on the landscape of the Philippines, but the also the people. This was how he ended up on the doorsteps of Allegheny East Conference's Oxon Hill Filipino church in Oxon Hill, Md., toting some 1,000 T-shirts. "We saw the people suffering and it reminded me of our situation. My family and I escaped our country of Vietnam in a boat," he said. "When we got to Malaysia, we had no food, no clothes and no water. So we see what's happening in the Philippines and feel like this was us and we have to do something for them."
Ngo, who owns a souvenir business in Washington, D.C., came to the church after seeing an article in the local paper about a fundraiser the church was hosting for victims of the typoon. Last Sabbath the Oxon Hill Filipino church held a six-hour fundraiser and asked members in the community to donate whatever they could. Some people, like Ngo, donated clothes, while others donated shoes, food and cash.
 
"We ended the collection at 4 p.m.," said Ariel Matira, the church's pastor. "We were really amazed to see how many people of different religions, races and countries responded to the needs of the Filipino people.  It was so nice to pray together and extend our love to the victims as representatives of God."
 
ADRA representatives also joined church members for the fundraiser. Jason Brooks, private grants manager at ADRA and speaker for the divine worship, spoke about the importance of helping one's neighbors across the waters.
 
While the church will ship the goods overseas this week, they will be sending to ADRA any funds raised. ADRA was one of the first organizations to begin feeding people right after the storm. "The reason we were there immediately isn't because we are the biggest organization with the most resources, it is because we were already on the ground anticipating what was needed through our ADRA Philippines office," explained Crister De La Cruz, ADRA's associate communication director. "As soon as the typhoon had died down and it was safe for our Filipino colleagues, we were out doing assessments and then feeding as many people as we could."
 
To make a donation for typhoon relief, visit adra.org. The Oxon Hill church is still accepting donations on Sabbaths at the church, which is located at 7412 Livingston Road in Oxon Hill, Md. To set up alternate donation times, email Pastor Matira at atmatira@yahoo.com.