Columbia Union Pastors Gather for Strength, Renewal, Replenishing
April 24, 2013 ∙ by cwhittingham ∙ in Columbia Union News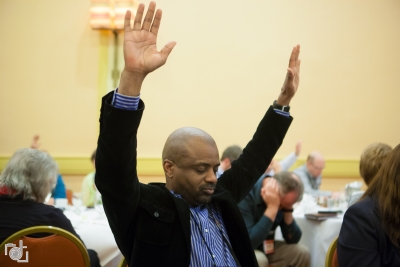 Story by Taashi Rowe; Photos by Taashi Rowe and Keith Goodman​
Over the course of three days, some 700 Columbia Union pastors and their spouses gathered in Baltimore for the union's first pastors convention in nine years. Themed "iAbide" with the tagline "Strengthen, Renew, Replenish," convention organizers set out to do just that.
 
"We've been working on this convention for five years," said Dave Weigley, Columbia Union president. "It's so important for us to come together as workers and pastors and be inspired, connect and worship with each other."
 
Spearheaded by Weigley's office and organized by Frank Bondurant, the union's vice president for Ministries Development, the program featured many opportunities for learning and spiritual refreshment. Weigley said the team was careful to schedule plenty of free time, and encouraged pastors to turn off their phones.
 
The program started Sunday evening with a sermon from Henry Wright, pastor of Potomac Conference's Community Praise Center in Alexandria, Va. He preached from Judges 21:25 and reminded his colleagues, "What God does to save us does not add up. You have been called to the ministry to save your carcass. It wasn't your voice, pedigree or degrees. … God is willing to abide in odd places, like in me and in you, and at your worst He doesn't leave you."
 
He also cautioned pastors not to neglect their families for the sake of the ministry. "Do not sit here today with broken children, broken spouses and broken families. One of the dangers in the [Seventh-day] Adventist ministry is the Adventist ministry."
 
Wright then made an appeal, and that evening, hundreds of pastors did something they don't often do, they responded to an altar call.
 
Other speakers included Elizabeth Talbot, founder of the Jesus 101 Biblical Institute, who in discussing Joseph in her morning session, said, "God's timing doesn't match my timing."
 
At Monday's lunch meeting, speaker Roger Hernandez, Ministerial and Evangelism director for the Southern Union, challenged pastors not to be afraid to live up to the vision that God has given them. "As Adventists, we are well educated above our level of obedience," he said. "A person of vision acts regardless of fear. God did not call you to be on the cutting edge of mediocrity. The reason why you feel a lack of purpose right now is because you took the vision God gave you and put it in the backseat."
 
Pastors also had plenty of breakout sessions to choose from, in Spanish and English. They not only had a taste of seminary life with classes called "Islam and Christianity in Prophecy," "Art of the Appeal" and "Current Trends in Theology," but also had practical classes on how to brand their churches, improve their small churches and use technology.
 
In his breakout session "A Small Church to be Proud of," Loren Seibold, an Ohio Conference district pastor, said, "Small churches at their best are places where people are more important than programs." When asked later about the importance of his session, Seibold, who has 35 years of pastoral experience, noted, "There are some people who have no interest in small churches but a vast majority of Adventist churches are small. Most people are focused on growth but they should be paying attention to health."
 
In his seminar "La Vida Espiritual del Pastor," Oswaldo Magaña, Ohio Conference's Hispanic Ministries director, shared with Hispanic pastors four important aspects of maintaining a daily, intimate relationship with Christ.
Seminar Brings to Light Child Sex Abuse
 
Pastors also attended a three-hour, afternoon general session sharing how they can protect children against sexual predators. Cory Jewell-Jensen, MS, with the Center for Behavioral Intervention in Oregon, schooled the gathering on how to spot and prevent sex abuse in churches and schools. She explained that the Adventist church is at a higher risk for these abuses because of the additional services offered by the church through its schools, Pathfinder/Adventurer programs and camps. Jewel-Jensen shared some chilling statistics: predators often have dozens of victims before they are caught and 20 percent of all church members have been or will be abused.
 
She also showed a video in which a young pastor, who had 95 victims, said, "The church is not an accidental place for people like me to hide. Church people generally are generous in their opinions of others."
 
Jewell added, "These people can be incredibly good liars and church people don't expect it because we don't expect these people to be in our world. Studies suggest that one out of every 20 males is a sex offender but we only catch a small percentage."
 
At the end of the session, Bondurant prayed, "Lord, although this was hard to hear, please empower us to prevent harm and protect the children."
 
Elvis Mogoi, a pastor at Chesapeake Conference's West Wilmington church in Delaware, said he was glad he attended the session. "I can't really say I was surprised at the information I learned today," he said. "Still it was eye-opening in a way. The sad part is you can never tell if someone is engaged in something like this. I'm glad to see that our church is acknowledging that these things do happen in our churches. Our church board has already voted a new policy to do background checks on those who work with children and our conference has also been proactive in emphasizing ways that we can protect our kids."
 
An Opportunity to Connect
 
While pastors were treated to master classes and seminars, the convention also served as an opportunity for attendees to connect with their spouses and fellow pastors. Laughter was heard in the hallways as groups of two, three and four pastors chatted between classes. Pastor Mario Thorp, a New Jersey Conference pastor, happily shared jokes with his friend Ramon Escalante, an Allegheny East Conference pastor. Other pastors took the opportunity to pray for each other.
 
Kasper Houghton, a 28-year-old pastor at Ohio Conference's Kettering church, talked with Stephen Lee, a New Jersey Conference pastor, an old seminary school friend.
 
During these informal gatherings, pastors not only discussed church politics and theology, they also shared family updates and discussed the value of some of the classes they attended.
 
Houghton said that while he skipped the classes on subjects he already felt well versed in, such as technology, others were a blessing. "I really enjoyed the class on small churches. I work for a big church now but it probably won't always be that way," he said.
 
Marcellus de Oliveira, an Ohio Conference pastor of a four-church district, said this was his first pastors convention. "It was exciting to get new information from great speakers," he said. "Many times as a pastor, you can be drained from serving. But at a place like this, I have been refilled and refreshed and found people who can speak to my heart and the needs of my soul."
 
 
The convention concluded this afternoon with pastors meeting with their conference leaders. Several expressed their thoughts on the convention.
 
Seibold said the convention was important because, "There is value in fellowship. Lots of pastors are very lonely, and I suspect they generally have to leave the ministry to become an expert on the pastorate."
 
Houghton said, "This was such a huge investment in human resources. It feels good to know that we were invested in. This was a great opportunity to build each other up."
 
Although he has 42 years of ministry under his belt, D. Robert Kennedy, an Allegheny East pastor, said he was leaving with more information on how to make the church more welcoming to visitors, and will be sharing some of what he learned with his elders.
 
Mariya Marton, who attended several seminars with her husband, Edward, who pastors in the Ohio Conference, said the convention was also helpful to her, as she is studying to become a chaplain. "The speakers have been amazing and inspiring," she said. "This has been a real blessing, especially hearing Pastor Wright say that even if things are not going right in my life, God is still busy."
Photo 1: Gary Banks, an Allegheny East Conference pastor, takes some time to praise God during the iAbide pastors convention.