Washington Area Young Adults Fellowship on Friday Nights
August 17, 2011 ∙ by cwhittingham ∙ in Allegheny East Conference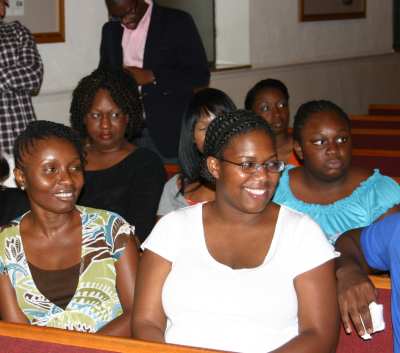 Story by Taashi Rowe​
"Sometimes as young adults, especially those who are single, we go our own way on Friday nights. But with this ministry, we can open the Sabbath together," says Anthony Barnes, a member of Allegheny East Conference's First church in Washington, D.C. It was at his church that young adults from around the region recently met for the "First Fridays" worship service.
Calling themselves the Metro Area Adventist Young Adults (MAAYA) members from Potomac Conference's Restoration Praise Center in Lanham, Md., and Allegheny East Conference's Emmanuel-Brinklow church in Ashton, Md., noticed a dearth of spiritual activities on Friday nights for young adults and started this worship service back in October 2009. The first Friday of each alternating month, the young people meet at a different host church for prayer, praise and a message from the Lord.
For this month's "First Fridays," young people gathered at First church and enjoyed personal testimonies, a song service; music from Metro Praiz, a choir from the Metropolitan church in Hyattsville, Md.; and a sermon from MAAYA founder Moses Eli, who is also associate pastor at Miracle Temple in Baltimore.
"The world has everything on Friday nights so that's when some people are bound to get in trouble," says Joanie Roberts, a member of the Metropolitan church. "This has always been a burden on my heart, and I'm so glad to see alternative Friday night activities like this."
Trevor Fraser, a member of Restoration Praise Center and one of MAAYA's founders, says he'd love to have the program each month. He is encouraging young adult leaders from the various Seventh-day Adventist churches in the region to get involved. Find them on Facebook at http://www.facebook.com/pages/MAAYA-Ministry-First-Fridays/279997310352.
MAAYA members are moving beyond just meeting on Friday nights and are inviting all to attend its "Barbeque for the People" where they will be serving shelter residents at this Sunday, August 21 at D.C. Central Kitchen, 425 2nd Street NW, Washington D.C., at 5 p.m. For More information, contact Racheem Sagay (301) 549-1075.