New Jersey Conference Members Help Paterson Flood Victims
October 25, 2011 ∙ by cmckenzie ∙ in New Jersey Conference
Story and photos by Jim Greene
Pictured below: Paterson flood victims receiving food.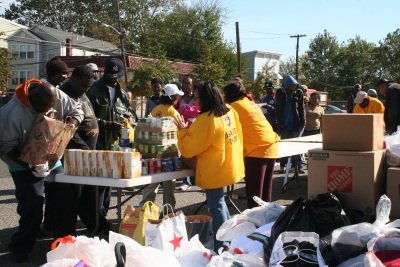 "The disaster has passed but winter is coming and they still need blankets, coats, jackets, sweaters and so much more," said Ricardo Cala, pastor of the Paterson Temple Spanish church in New Jersey. "In the name of God first and then the Seventh-day Adventist Church and the New Jersey Conference, we are here to help."
He was one of several church members who recently joined the conference's Adventist Community Services (ACS) Disaster Response team, under the leadership of Claudia Ramirez, to provide food and clothing to 175 families in Paterson. Many families were driven from their homes after rains from Hurricane Irene and Tropical Storm Lee caused the Passaic River to rise and flood nearby homes in late August and early September. With flood damage and no electricity for up to 15 days, some were evacuated from their homes. While Paterson residents received initial aid and many are back in their homes, the flooding has left a mark on the community. Many are still struggling to repair their homes and their lives.
With an eye toward meeting the needs of their struggling neighbors, the conference's ACS Disaster Response team, Paterson Temple Spanish members and Paterson Eastside Spanish church Pathfinders visited the riverfront area. While the Pathfinders fanned out through the neighborhood to invite families to come and receive new clothes, bedding and food, the ACS Disaster Response team set up their distribution tables in the parking lot of the local school located just two blocks from the river.
Walking through the neighborhood, one Pathfinder was surprised to see the condition that some people were living in. "It was really sad to see the houses all destroyed … we thought people wouldn't live in that area [but] people were living in those houses. So we really need to be helping those people," she said.
Although the people are still in need, many Paterson residents left the site that day with smiles on their faces and hope in their hearts.
Click here to view the video from that day.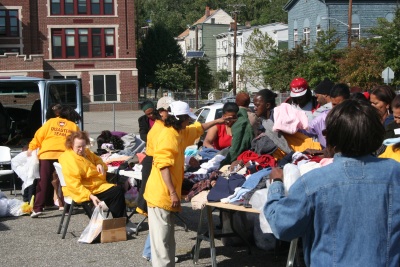 Paterson flood victims receive clothing.