Bikers "Rev It Up" for Christ at First Motorcycle Camp Meeting
June 09, 2011 ∙ by cmckenzie ∙ in Ohio Conference
Story by Taashi Rowe
Pictured below: Leroy Bennett, a member of the Newark (Ohio) church, helped to coordinate the biker games on Friday.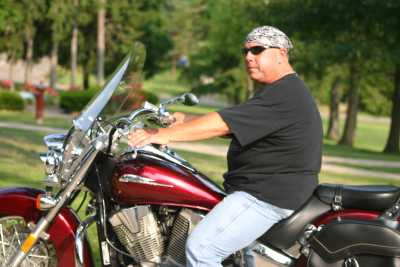 The plangent roar of dozens of motorcycles coming to life in unison breaks the quiet of a Mount Vernon, Ohio, Sabbath afternoon as dozens of bikers prepare to ride into the countryside. This is just one of the activities that bike enthusiasts recently enjoyed at Ohio Conference's first "Rev It Up Biker Revival." Held at Mount Vernon Academy, this camp meeting drew some 80 Christian bikers from as far West as California and as far south as Florida. 
While the purpose of this camp meeting is the same as most Seventh-day Adventist camp meetings, at this camp meeting, attendees wear with pride their Harley Davidson paraphernalia, such as their jeans, T-shirts and pins, etc. One friendly, petite, red-headed, freckled woman biker sports a patch on her leather vest that gleefully announces, "These are my church clothes."
Earlier that day, people file into the school's cafeteria with bandanas, tattoos, piercings and, for the most part, these attendees look the part of the stereotypical biker. However, in spite of their outer trappings, these are not stereotypical bikers. Many are wearing patches on their leather jackets or even T-shirts that proclaim their loyalty to Jesus Christ. One towering man with a black goatee and nary a smile on his face, wears a red bandana and a T-shirt with a verse from Isaiah 40:31 that states, "They shall mount up with wings like eagles. They shall run and not be weary and they shall walk and not faint." Some others wear leather jackets with a large patch that reads: "Sabbath-Keepers, Seventh-day Adventists, Revelations 14" accompanied by the verse "Jesus is also Lord of the Sabbath, (Mark 2:28)." 
Standing 6'4" tall, Tom Hughes, pastor of the Newark (Ohio) church and coordinator of this camp meeting strums his guitar as he leads out in the song service. He can identify with some of those who have lived the outlaw biker lifestyle. Before he became an Adventist, he always thought he was "too bad to be saved. I had a lot of shame, hatred, self-anger … I thought, 'If God knows anything about me, He wouldn't want anything to do with me.'" Now through his Bible Biker Ministries, Hughes has witnessed to bikers in all 50 states.
Monte Sahlin, Ohio Conference's director of Research and Special Projects, is always on the lookout for unique ways to minister to underserved groups. With 400,000 bikers in the state of Ohio, he needed an entering wedge to reach those bikers, but realized that "many bikers are not interested in conventional church." That's where Hughes' long history ministering to bikers became helpful. With support from the Columbia Union and the Ohio Conference, Hughes designed this camp meeting as a way to reach out to unchurched bikers and provide training to those who want to minister to this group.
This kind of ministry is what Dave Weigley, president of the Columbia Union Conference, calls "recreational evangelism." Weigley, who drove more than 300 miles on his Harley from his home in Maryland to the camp meeting, says bikers have an instant rapport that create opportunities for Adventists to reach some unexpected candidates for Christ. Following his sermon at the worship service, Weigley shared that he was hoping that "people will leave here with a sense of community, where they will sense that they belong to a large fellowship of Christian bikers who are in love with Christ and have the joy of experiencing His new life." 
For Marc Kopocs, a member of the Carrollton (Ohio) church, this biker gathering gave him a much-needed sense of community. "It's nice to meet people who I have more in common with, people who have similar backgrounds, are turned on by Christ and can still enjoy life," he says. "I'm really glad I came."
Read more about this unique camp meeting in the August issue of the Visitor magazine.