New Review and Herald Magazine Targets Unchurched Children
April 12, 2010 ∙ by owetmore ∙ in Editorials, Uncategorized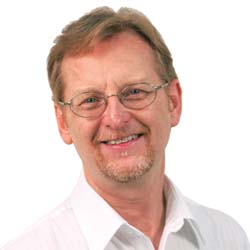 By Celeste Ryan Blyden
The first two issues of Real magazine were recently mailed to more than 3,000 children, taking Christ-centered content into the homes of unchurched youth across North America. Thousands of additional copies were sent to churches and ministries for use in community outreach. "This has been in the works for two years, and we've been dreaming of it for much longer," says editor Randy Fishell (pictured). 
Adventist preteens, grandparents, teachers and others wanting to share the gospel with young friends and family members aged 9-15 submitted the names on the subscriber list. "Real provides a nonthreatening way to introduce Bible truth to children at an age when their hearts are especially open to the gospel," says Fishell, who also edits Guide, the church's magazine for juniors and earliteens. 
Published bimonthly, Real contains true stories, puzzles, fun facts, Bible studies and other spiritually uplifting content. To send a subscription to an unchurched child, visit sharereal.org.