Fredericksburg Hosts Fundraising Concert for Sick Child
August 11, 2010 ∙ by owetmore ∙ in Editorials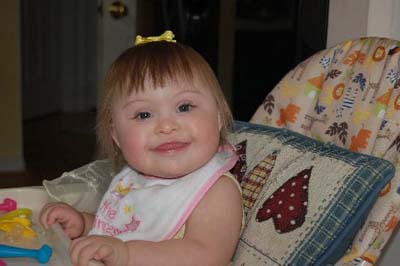 Story by Susan Ware
Members of Potomac Conference's Fredericksburg (Va.) church recently came together to host a sacred benefit concert on behalf of a baby girl diagnosed with leukemia. Kira Anne Glock is 14 months old and also has Downs Syndrome.
The evening concert featured soloist, Tenia Lewis-Semakula, who came all the way from Michigan for the concert. Lewis-Semakula and Kira's mother, Tracy, share a friendship that goes back almost 10 years. For Lewis-Semakula sang her first solo at 11 years old at the Fredericksburg church, which sparked her passion for singing. 
Lewis-Semakula's strong, beautiful voice resonated throughout the church as she opened the concert with "You Raise Me Up." Her family also joined her in honoring baby Kira. Her sister, Stacie Lewis, sang "He Wants It All" a cappella, and even her 3-year-old son, Montana, sang "Jesus Loves Me" impromptu. Hearts were uplifted as Lewis-Semakula and her 10-year-old son, Donavon, sang the gospel song "Step Aside." The words echoed strength, hope and faith.
During the concert, there was a photo slideshow of Kira set to the song "In the Arms of an Angel." As the music played faces in the Fredericksburg congregation changed from smiles to tears and back. Lewis-Semakula noted, "Kira has those nurses and doctors wrapped around her fingers, and everyone else she meets too." 
Kira has received one of her six chemotherapy treatments, which will take place over the course of the next year. Her parents, Tracy and John Glock, say that although she does have fits when the nurse gives her a needle, Kira has not lost her spunk at all. She wakes up talking and goes to sleep talking. However, having a special needs baby with cancer is very challenging. Juggling work schedules so that they can be with Kira during her treatments has been difficult and they are seeking additional help for childcare.
The concert raised money to help with Kira's medical bills. Tax-deductible donations are still being accepted. Checks can be made payable to the church with a note in the memo section to the Helping Hands Fund. 
Send donations to: 
The Fredericksburg SDA Church 
Attn: Church Treasurer 
P.O. Box 3460 
Fredericksburg, VA 22402. 
For more information, visit caringbridge.org or fredericksburgsdachurch.org.