Columbia Union Holds Midyear Meetings
May 18, 2010 ∙ by owetmore ∙ in Adventist HealthCare, Kettering Health, Potomac Conference, Washington Adventist University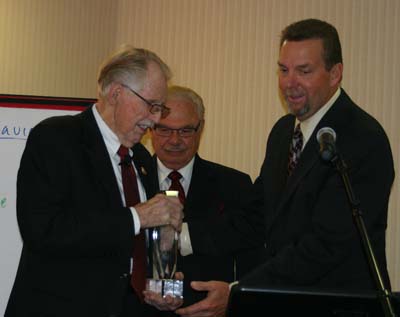 By Celeste Ryan Blyden
Leaders from across the Columbia Union gathered last week for second quarter meetings called "midyear meetings." Chaired by union president Dave Weigley, the meetings involve presidents, executive secretaries, and treasurers from the eight conferences that comprise the Columbia Union Conference, the union leadership team, as well as executives from Adventist HealthCare, Kettering Adventist HealthCare and Washington Adventist University. 
On Monday treasurers learned how to use a new accounting system; on Tuesday conference officers met to share reports from their respective fields, review financials, and give input on joint projects and initiatives. Potomac president Bill Miller rejoiced that a weeklong Hispanic evangelism reaping series was expected to yield more than 500 baptisms. On Wednesday 40 attendees engaged in conflict management training. They wrapped up the week Thursday with members of the Columbia Union Executive Committee. 
During that meeting, union treasurer Seth Bardu reported a first quarter tithe increase of 4.22 percent unionwide. In addition, President Weigley presented Maryland Rep. Roscoe Bartlett with an award for service to the community and his church (pictured). Bartlett, 85, is an inventor, educator, devout Adventist, graduate of Washington Missionary College (now Washington Adventist University) and nine-term United States congressman. 
Later on in the meeting, Larry Evans, General Conference undersecretary, briefed attendees about the 59th General Conference Session to be held in Atlanta June 23-July 3. He described the 10-day meeting as a "spiritual journey we are taking 2,400 delegates on" and noted that the meetings will be translated into 11 languages. Five world church officers have announced plans to retire, including vice presidents Mark Finley, Eugene Hsu, and Gerry Karst; associate secretary Claude Sabot; and associate treasurer José Lizardo. A major part of the session is the election of the church's 129 leaders, including 90 who work at the world headquarters in Silver Spring, Md., and the officers of all 13 world divisions. 
Evans, who said that the business agenda for the session is now ready, acknowledged that "the ordination of deacons has created quite a bit of interest," but ordination of women is not presently on the agenda. "Though North America speaks loudly about it, it's not clear what the majority wish is on that issue [worldwide]," he said, but concluded: "God will lead this church in all issues... we need to be open to the Holy Spirit and let the Lord lead us." Learn more about the world business meeting of the Seventh-day Adventist Church at www.gcsession.org.