New Jersey Camp Meeting Focuses on Family
June 22, 2009 ∙ by owetmore ∙ in New Jersey Conference
By Taashi Rowe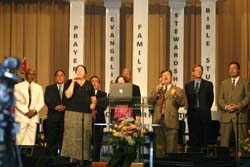 With family at the core of the New Jersey Conference's pillars of prayer, stewardship, evangelism, Bible study, and Christ, this year's camp meeting focused on building stronger churches through building stronger families. Conference president José Cortés, PsyD, explained that strong churches begin with strong families and that strong families begin with a strong relationship with Christ. 
Themed, "Families Shining for Christ," the two-day English camp meeting offered all age groups opportunities to get closer to Christ. Keynote speaker Willie Oliver, director of Family Ministries for the North American Division, encouraged attendees in the main pavilion to find Jesus and to do all they could to give Him glory. 
Oliver noted that it is possible to be in the church of Jesus and still lose Him. "If we are going to shine for Jesus, we can't shine without Him," he said.
In his Sabbath sermon, Oliver encouraged believers to "be committed to doing everything in your relationships to the Glory of God. We are not here to please ourselves but to glorify God."
Florida-based evangelist Willie Ramos used movie analogies to share a powerful message at the teen camp meeting. 
"You are writing the screenplay of your life," he said. "Every single one of us must hire a film director of our lives. Whether we choose Jesus or Lucifer—whoever you choose will tell you who you are."
To seal the commitment to family, many couples closed the Sabbath and camp meeting by renewing their vows to each other and to God. 
The New Jersey Conference Spanish Camp Meeting will be held June 25-26.