Dover Member Celebrates Golden Anniversary Art Exhibit
November 25, 2009 ∙ by owetmore ∙ in Uncategorized
By Beth Michaels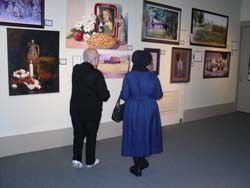 Kitty "KM" Hammond, 76, a second-generation member of Chesapeake Conference's Dover (Del.) church, recently had 50 years of professional art on display at the Delaware Agricultural Museum in Dover. Celebrated as one of the state's accomplished professional artists, the month long exhibit included 67 of her agriculturally themed, museum-sized paintings. Approximately 200 people attended the opening reception, and as many as 25 each day came to meet the artist and enjoy the display.
All of the paintings were created from one of eight mediums, including oil, watercolor, acrylic, pen and ink, and Crayola crayon, and painted in Hammond's Impressionistic Realism style.
Hammond, a master colorist, humanitarian, philanthropist of time and talent, and published author, says that painting "is a precious gift from God." She adds, "I get lost in the painting's 'peaceful world,' which the Lord creates through my hand in every painting." 
Hammond's daughter and business manager, Joyce Lewis, reports that many exhibit visitors were thrilled to learn that her mother is a Christian. "By God's grace, and mercy, people continually spoke of the peace, comfort, and hope they felt as they leisurely took time to see and enjoy the show." 
Read more about Hammond in the December issue of the Visitor.