Adrian Westney, Educator and Religious Liberty Champion, Dies
December 15, 2009 ∙ by owetmore ∙ in Uncategorized
By Celeste Ryan Blyden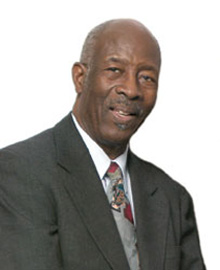 We regret to announce the passing of Adrian Theophilus Westney, DD, 82, who died last night after a brief illness. Westney, a pastor, chaplain, educator, and administrator, served the Seventh-day Adventist Church with distinction for more than 60 years. 
Before coming to the United States in 1960, Westney planted churches and pastored in his homeland of Jamaica, as well as in Barbados and Guyana. He earned a Bachelor of Arts in Theology from Columbia Union College (now Washington Adventist University) in Takoma Park, Md., a Master of Arts in Religion from the Seventh-day Adventist Theological Seminary at Andrews University (Mich.), and a Doctor of Divinity from Howard University in Washington, D.C. He subsequently pastored in Virginia and directed Youth Ministries for Allegheny West Conference. In 1969 he accepted a call to serve as principal of Pine Forge Academy in Pine Forge, Pa., where he hosted the first alumni homecoming weekend. From 1976-89 he served as associate director of education for the Columbia Union Conference, and then went on to direct Public Affairs and Religious Liberty until his retirement in 1995. 
Though retired, Westney continued his advocacy of religious liberty in an associate capacity. He helped many members in the Columbia Union obtain workplace religious accommodations and organized a number of religious liberty rallies that informed church members about their constitutional rights. He also started and faithfully hosted "Talking About Freedom," a weekly radio program addressing religious liberty issues that aired on WGTS 91.9. 
"We appreciated Dr. Westney so much, and will remember him for the lasting contribution he made by assisting and protecting the religious freedom of so many church members across our union," says President Dave Weigley.
"Dr. Westney will be sorely missed," added Walter Carson, union vice president and general counsel. "He was a Christian, a gentleman, a champion of religious freedom, and a dear friend."
Westney is survived by Lizette, his wife of 56 years; three adult children—Adrian "A.T." Westney, Jr., Gloria Westney Hughes, MD, and Marcel—and five grandchildren. 
FUNERAL INFORMATION
Funeral services will be held Friday, December 18, at 10 a.m. at the Metropolitan Seventh-day Adventist Church in Hyattsville, Md., preceded by a 9 a.m. viewing. The interment will take place at George Washington Cemetery, 9500 Riggs Road, in Adelphi, Md. 
In lieu of flowers, the family invites donations to the Adrian Westney Scholarship Fund. Cards may be addressed to Mrs. Lizette Westney, 1206 Prospect Street, Takoma Park, MD 20912.