Review and Herald Hosts 10th Annual Vibrant Life Fun Run
October 07, 2008 ∙ by kkajiura ∙ in Health & Lifestyle
By Kim Peckham
Photos by Mike Gamblin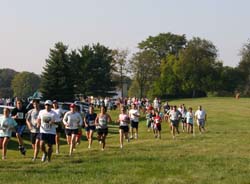 Pastor Brenda Billingy of Allegheny East Conference's Bladensburg church was triumphant as she crossed the finish line of the 10th annual Vibrant Life 5K Fun Run and Walk held recently in Hagerstown, Md. "They didn't believe I could do it," she said, referring to the doubts church members had about her athletic ability. Listening to a mix of gospel on her iPod for motivation, she turned in a respectable time among the 169 participants of the race. Billingy says she ran the race for a girlfriend who is dying of cancer. Part of the proceeds of the Fun Run is dedicated to the Susan G. Komen Breast Cancer Foundation.
Seventh-day Adventist representatives came from several local conferences, including Pennsylvania, Allegheny East, and Chesapeake, and from as far away as Georgia-Cumberland Conference. The annual cross-country race is held on the field and tree-laden campus of the Review and Herald Publishing Association. "I liked running out in nature," said 7-year-old Kari Remmers, whose father, Rick, is pastor of the Chesapeake's Hagerstown church. 
The first-place winner, Dennis Coleman, ran in memory of his sister who he lost eight years ago to cancer. "I try to take care of this body that God gave me," says Coleman, who must be doing a good job because the 50-year-old Gaithersburg man never gave any of the younger runners a chance to pass. Explaining his annual attendance to the race, Coleman, who is not Adventist, said, "There's a sense of spirituality around this event." 
The fastest female runner, Karen Abbamonte, is also 50 years old. Abbamonte didn't take up the sport until she was in her mid-40s, partly just to "get out of the house."
Many participants didn't come to work themselves into a lather. "I'm just walking," said Violet Kamori, a member of Chesapeake's Baltimore First church in Ellicott City, Md. "Just trying to be healthy," agreed her friend Robin Wells. Hazel Vetter, age 95, who likes to attend Chesapeake's Willow Brook church in Boonsboro, Md., was the oldest person at the starting line.
Linda Starkey, Vibrant Life editorial assistant, has taken a leading role in the races over the past 10 years, helping organize an army of 50 volunteers from the Review and Herald and local Adventist churches. "I think our overall goal is not only to promote the health of the runners," she says, "but to increase awareness of health throughout the community.
Watch vibrantlife.com for an announcement of next falls race date.