Conference Disaster Response Leaders Unite, Train
February 26, 2008 ∙ by kkajiura ∙ in More
By Frank Bondurant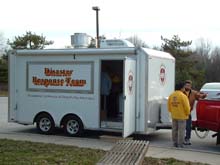 Disaster response leadership from seven of the eight Columbia Union conferences, clad in their familiar yellow shirts, gathered recently at the union office for an advisory council.
Bob Mitchell, the union and Potomac Disaster Response coordinator, facilitated the meeting. Sung Kwon, the national director for Adventist Community Services and Disaster Relief (ACS/DR), was also present and shared news about the newly revised North American Division training curriculum.
The day included lively discussion about the union's Disaster Response Action Plan. Attendees also discussed the job description for the union coordinator, and each conference gave a brief report on its disaster preparedness activities. One of the day's highlights was a tour of the Chesapeake Conference ACS/DR trailers. Kitty Juneau, Chesapeake coordinator, led the tour and explained how the trailers could be used in disaster response. 
Participants left with a better understanding of their roles in disaster response and with a renewed sense of unity and commitment to this vital ministry. The union coordinator will use quarterly teleconferences to keep the channels of communication open with local conference coordinators.