ACS Leaders Gather for Summit
June 10, 2008 ∙ by kkajiura ∙ in Columbia Union News
By Frank Bondurant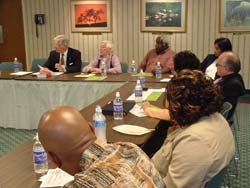 Conference Adventist Community Services (ACS) directors and the executive directors of several metro ministries gathered at the Columbia Union Conference headquarters recently. The meeting was coordinated by union ACS coordinator Minnie McNeil and facilitated by the office of Ministries Development. The purpose of the meeting was to provide conference and projects leaders with inspiration, networking, training, and up-to-date information on some of the issues facing ACS within the Columbia Union. 
The meeting began with a devotional by J. Wayne Hancock, ACS director from the New Jersey Conference. Frank Bondurant, union vice president for Ministries Development, shared the history and present status of ACS within the Columbia Union. Walter Carson, the Columbia Union vice president and General Counsel shared with the participants some of the legal issues confronting their ministries, such as the use of the Seventh-day Adventist Church name, incorporation policies, stipulations associated with a 501 C3 status, and liability issues. According to Carson, "Just because you are a faith-based ministry with good intentions doesn't make you exempt from litigation." He went on the advise the directors on steps they can take to safeguard their ministries and the church. Just before lunch the group was treated to a special presentation by "Lifestyle Ministries Tae Kwon Do," led by Sonya Murray, Dorothy Fliou, and Max Maurice. They gave a "hands-on" presentation on healthier living and how to implement exercises into our everyday lives. In the afternoon Mae Ellen and Gaspar Colon shared a presentation on the worldwide ministry of ACS and how local leaders can minister with a purpose. 
Before it was all over, each of the metro ministry directors present gave reports on their projects. This was perhaps the most inspiring part of the day. The Columbia Union has been blessed with a diversity of ministries that are impacting and transforming their communities. Many of these ministries are truly "one of a kind" and are pioneering a trail for other churches to emulate. 
The Columbia Union is presently returning over $250,000 to local conferences for their community services. This is beyond what is already being returned for local conference evangelism projects.