Mid-Atlantic Adventists Celebrate Centennial
February 15, 2007 ∙ by kkajiura ∙ in Columbia Union News
By Celeste Ryan Blyden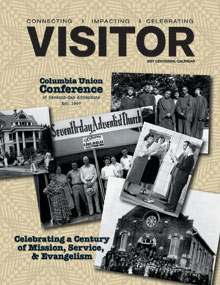 Beginning today, Seventh-day Adventists in the mid-Atlantic United States will embark on a yearlong centennial celebration with commemorative events, publications, and observances. 
The Columbia Union Conference of Seventh-day Adventists was founded November 17, 1907, by leaders who represented the 5,320 members, 187 churches, a handful of schools, and several hospitals located in the eight mid-Atlantic states of Delaware, Maryland, New Jersey, Ohio, Pennsylvania, Virginia, Washington, D.C., and West Virginia.
Their goal was to provide administrative support, oversight, and resources to the church's organizations and advance the church's work in this region. As healthcare, publishing, education, and community service efforts grew, so did the church. A century later, nearly 125,000 Adventist believers worship in 700 diverse congregations. They operate six large community service centers, 106 schools, two colleges, and two thriving healthcare networks that serve more than half a million patients annually.