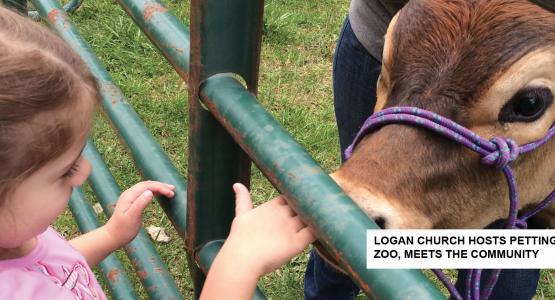 Logan Church Hosts Petting Zoo, Meets the Community
August 02, 2015 ∙ by Anonymous ∙ in Mountain View Conference
Rebecca Trent, a member of the Logan (W.Va.) church, visited a church petting zoo and thought it would be a good outreach event for her community. She wanted to raise awareness of the Seventh-day Adventist Church and the truths it professes.
Story by Mountain View Conference Staff
After going door to door, Trent found that people have Adventists mixed up with other denominations. She once encountered the wife of a nondenominational church pastor that said Adventists didn't believe in Jesus. "We definitely want to make it our goal to raise community awareness of who we are and what we stand for and, of course, win some souls along the way," she adds.
To accomplish this goal, church members threw a "spring fling" two miles from the church at the Chief Logan State Park. The Future Farmers of America provided the main attraction, a mobile petting zoo with llamas, cows, sheep, rabbits, ducks and riding ponies. Unsure about the turnout since the park would not allow the church to post advertisements, Matthew Wood, a church member, created a Facebook event. Members also posted a sign in front of the spring fling area, showing it was the Logan Seventh-day Adventist Church that was sponsoring this free event.
Trent's 14-year-old daughter, Christa, says, "It was so much fun, and we met a lot of new people because the petting zoo really attracted [a crowd]. I couldn't believe so many people showed up. Even after the animals were leaving, the people were still coming."
Members also distributed more than 100 copies of Steps to Christ. And, Chris Trent, the church's Bible worker, gave his business cards to people interested in Bible studies.
Elaine Buchanan, a church member of the nearby Williamson (W.Va.) church, shares that plans are underway for a similar event. "We weren't sure how many people would come, but we were certainly surprised to see the great turnout. With the positive response … plans are to repeat the event this fall. This time there will also be a health station where people can get handouts on topics such as diabetes, heart disease and depression," she says.
"I'm pleased to see how my church members get involved with activities in our community," says Pastor James Buchanan.