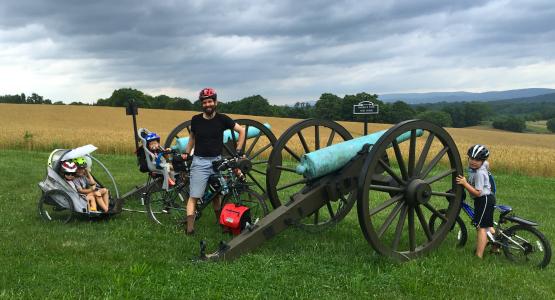 Connection Community Church Family Bikes to Camp Meeting
August 05, 2015 ∙ by Anonymous ∙ in Chesapeake Conference
Troy and Anastasia Elliott packed a tent and gear and, with their children in tow, bicycled some 60 miles from their home in Takoma Park, Md., to camp meeting at Highland View Academy (HVA) in Hagerstown, Md.  
Story by Samantha Young, Chesapeake Conference
The Elliott family camped and biked all the way from Takoma Park to Hagerstown. Photograph by Troy Elliott
The Elliotts, who are actively involved in the new Connection Community church in Laurel, Md., say they have been intentional during the past year about spending more time as a family biking and camping. When they learned that The Gathering, Chesapeake Conference's annual camp meeting, was shortened to Friday and Sabbath instead of the traditional Tuesday to Sabbath schedule, they hatched a plan to have a full camp meeting experience by departing home on Tuesday and arriving at HVA on Friday.
"We followed the Chesapeake and Ohio Canal up the Potomac River to Antietam then took back roads to HVA," Troy says.
Seven-year-old Alexei pedaled his bike the whole way, while younger siblings Nikita (5) and Viktoria (3) rode behind their dad in a bicycle trailer and Ilya (1) enjoyed the trip from his infant seat. Along the way, they spotted deer, a red fox, turtles and an owl.
During the Friday primary division meeting, Troy says Alexei was disappointed he wasn't called on to answer when the leader asked the children, "How long did it take you to get to camp meeting?"