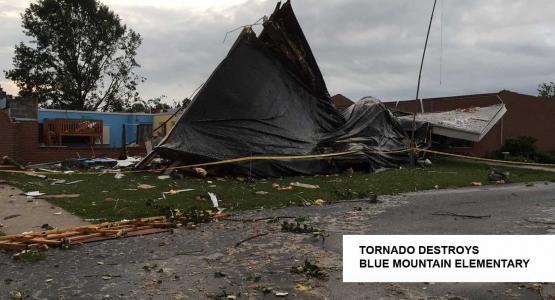 Tornado Destroys Blue Mountain Elementary
July 10, 2015 ∙ by Anonymous ∙ in Education, Pennsylvania Conference
On Thursday at approximately 6:45 p.m., a powerful storm struck Blue Mountain Seventh-day Adventist Elementary School (BME), Hamburg, Pa., taking off the roof, destroying the gym, and knocking down several walls of the 46 year old brick structure. Principal Rachel Wardecke was alone in the building at the time. Shaken, but not seriously injured, Rachel immediately told reporters, "Our school will open again."
Story by Tamyra Horst/Pennsylvania Conference
The Pennsylvania Conference of Seventh-day Adventist leadership is grateful for God's protection and that no injuries were reported involving any students or staff. No damage was reported at Blue Mountain Academy, located across the road from BME.
BME has been serving families in the Hamburg and surrounding areas since 1954 and is committed to providing students an Adventist Christian education that includes academic excellence, social development and spiritual growth. While it's too early for any specific plans, the school will reopen this fall and continue serving, nurturing and educating children.
The Pennsylvania Conference would like to thank those around the world who are praying for our school, its staff, students, and alumni who are grieving the loss of a beloved school and invite to you continue to pray with us for Rachel and her team as they sift through the damage and make plans for the coming school year.