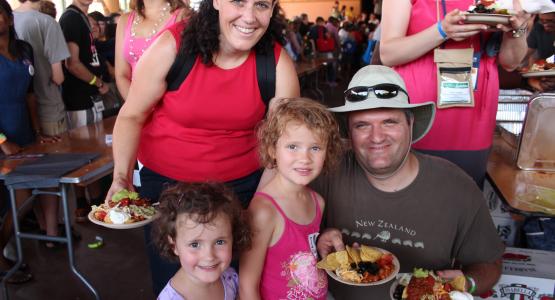 HaystackTV Attempts to Break World Record
July 09, 2015 ∙ by Anonymous ∙ in Uncategorized
HaystackTV missed breaking the Guinness World Record for a potluck by just 176 persons. They needed 1,276 to break the record held by a church in Arizona.
Story by Steven Norman, III/NAD
Javen Lunsford, Heather Lunsford, Bela Fuentes, Taylor Lunsford and Rachel Reyes Fuentes, all members of Potomac Conference's Sligo church in Takoma Park, Md., get ready to participate in the haystack potluck.
The haystack-themed potluck was the brainchild of Jeff Tatochek and Keith Bowman. They saw around 1,100 people bring chips, salsa, beans, tomatoes, olives and other haystack fixins' to Sunset Station in San Antonio to help make the world's largest Haystack Potluck.
Young and old enjoyed haystacks, a popular Adventist meal. Rosendo Vega of Mexico said, "Brother it is good!"
Some one-word descriptions from youth include: "Phenomenal" (Nehemiah, 16), "Heritage" (Konrad, 16), "Awesome" (Caleb, 15), "Delicious" (Jessica, 17), "More!" (Marvie, Bakersfield, CA), "Great!" (David, from Sweden), and "Cool!" (Pace, 16, Nashville, TN)
Sixteen-year-old Kelsey Negre from South Africa thought the haystack potluck was "the most ridiculously fun thing. It's fantastic to be here and having this event."
While munching on her haystack, Pastor Barbara McCoy, pastor of the Forest Lake Academy Church, said  "It is awesome to show the church that there is an army of youth who are interested in serving in fun, powerful, and Christ-centered ways."
HaystackTV seeks to identify the core values of the youth and show how the Adventist Church shares these same values.
Sponsors of this event are Adventist Christian Fellowship with chapters on 150 public college and university campuses and the NAD Young Adult Life that is I San Antonio sponsoring Impact San Antonio events during the General Conference Session.
More General Conference Stories
Feature Photo: The Porter Family from Guam participates in the attempt to break the haystack world record.