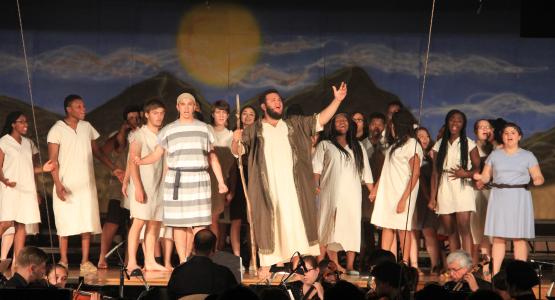 Blue Mountain Academy Students Perform Teacher's Original Opera
July 05, 2015 ∙ by Anonymous ∙ in Education, Pennsylvania Conference
This spring Blue Mountain Academy (BMA) students performed The Exodus Story, an original opera by Lawrence Galera, director of music. The cast of 88 included soloists, a choir and orchestra, gymnasts and actors, as well as stage, lighting and sound crews. Auditions began in September, rehearsals began in January and the cast finally performed twice in May.
Story by Caron Osawald
For Galera, this was the crown of a two-year journey. "As I first began this project, it was difficult to imagine the epic journey from hundreds of years of slavery to a mental and physical state of freedom," Galera says. He explains that he intertwined music of prevalent composers throughout the story with his own lyrics, compositions and orchestrations.
Senior Nolan Seidel, who played Aaron, says he joined the choir his freshman year because he needed the credits, but his participation turned into a ministry through the opera. He shares, "I prayed and said, 'God, You have to help me. It is about the message, so use me.'"
Courtney Doyle, a senior who played Pharaoh's daughter, also saw the production as a ministry. "I thought that maybe this would touch people where a normal church service wouldn't," she says.
BMA staff and members of the local Seventh-day Adventist community also helped produce the opera. Karyl Kramer, English and French teacher, was the director and dialogue author. Ever Perez, chaplain and Bible teacher, designed the set.
Christy Link, a Hamburg, Pa., resident, coordinated the costumes. And, a crowd of volunteers of faculty and their families, students and community supporters tirelessly worked to make it all possible.
Galera says he was overwhelmed by the experience. "I am truly blessed with being surrounded by such talented students—singers, actors and musicians. Relentless faculty and committed community members went far above and beyond my highest expectations," he says.
Esther Reese, a staff member and professional musician, played first violin. "I was completely blown away," she says. She praised the students for the quality of tone and hard work and adds, "This was their best. All of the kids pulled together and made it their Exodus story."
Jeff Bovee, vice president of education for the Pennsylvania Conference, says The Exodus Story was "a glimpse of the powerful and wonderful God who loves us and claims us for His own. … I am so proud of the students, faculty, staff and volunteers who have worked to put together this amazing theatrical production."