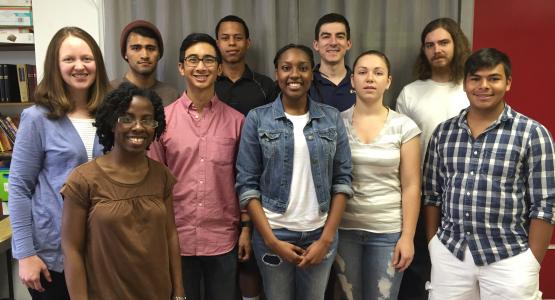 June 10, 2015 ∙ by Anonymous ∙ in Allegheny West Conference, Columbia Union News, Ohio Conference, Pennsylvania Conference
During the past week, Tara VinCross oversaw the launch of the REACH Columbia Union Evangelism School, based in Philadelphia.
Story by Beth Michaels
The opening included a prayer and training weekend, May 29-31, for participating churches in Columbus, Ohio, where the first session takes place. VinCross, director, reports there are 13 young adults (some pictured with VinCross, far left) enrolled in the first semester, all of whom will partner with Allegheny West Conference's Pastor John Boston and his Central church members, and Ohio Conference's Pastor Milt Pruit and his Eastwood church members, to learn effective evangelism techniques.
"It was inspiring to see elders from both churches interceding for the young adult students and the mission of reaching Columbus," says VinCross, whose REACH team includes Justin Khoe, Taunya Grissom and Jason Vanderlaan. "The students that God led to REACH are exceptional and represent five different conferences. It's inspiring to see so much collaboration and support from across the Columbia Union."