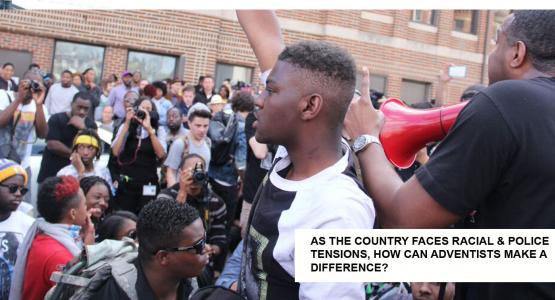 As the Country Faces Racial and Police Tensions, How can Adventists Make a Difference?
May 28, 2015 ∙ by Anonymous ∙ in Allegheny East Conference, Chesapeake Conference, Columbia Union News, This Month's Issue
As the Country Faces Racial and Police Tensions, How can Adventists Make a Difference?
Story by Mark Tyler/ Cover photo by Chip Dizárd

Maurice Taylor, Berea Temple pastor; Minnie McNeil, Allegheny East ACS director; and Dave Weigley, Columbia Union president, organize efforts.
Riots and protests erupted in West Baltimore in April when an unarmed citizen died in police custody. Tensions flared in a neighborhood plagued by systemic problems as people lashed out over the death of another black man by police. The events in Baltimore are the latest to increase tensions started by similar situations in Ferguson, Mo., and other locations.
Some of the biggest purveyors of peace during the incident, however, were Seventh-day Adventist pastors and other clergy who literally provided a buffer between demonstrators and police, then organized block-by-block prayer bands.
"God used the clergy to prevent loss of life," explains Reginald M. Anderson-Exum, pastor of Allegheny East Conference's (AEC) Edmondson Heights church in West Baltimore. "I held gang members in my arms and we wept together. I wanted them to know I understand their anger. Now they know they have a God and a pastor who empathizes with them."
Maurice N. Taylor, AEC's Baltimore Extended Area Ministerium leader and pastor of Berea Temple, the church closest to the unrest, held a service of hope and healing just days after the riots and invited in the community to address tangible needs. Taylor says everyone was positive.
Minnie McNeil, Adventist Community Services (ACS) coordinator for the union and director for Allegheny East, with support from the Columbia Union, Chesapeake Conference and North American Division, also organized relief efforts. Together they donated funds and mobilized volunteers to distribute water and personal hygiene products in a neighborhood where looters destroyed a local pharmacy. (Read more on page 5.)
"I'm proud to see our community of faith provide support to a hurting city," says Dave Weigley, union president. "The tragedy in Baltimore is repeated too often across the country, and while many are looking to find solutions, we know there is really only one: for everyone to experience the love and transforming power of God's grace."
Eli Rojas, ACS and ministerial director for Chesapeake, says, "It was a really good feeling [to] get in touch with the people who are going through the struggle. This was a Band-Aid put on the wound, but we need to do more."
And, they are. As racial and police tensions persist, church leaders and members around the Columbia Union continue to contribute through action and voice. Here are some methods they've employed to bring long-term healing:
1. Change the Rhetoric
Erykah St. Louis, from the Takoma Park (Md.) church, participates in Miracle Temple's social media campaign. Photo by LaTasha Hewitt
As fiery images of Baltimore filled national news coverage, something became clear to those with boots on the ground—the whole story wasn't being told. That's why AEC's Miracle Temple held a Social Media Activists Organizing Meeting to teach people how to create their own content. "The narrative that has come out of Baltimore has been slanted toward the negative, but there have been a lot of positive things that have happened," says David B. Franklin, senior pastor.
Since that meeting, more than 100 people have volunteered for a long-term campaign to create positive content for social media pages and to determine how to most effectively share those stories. A social media expert from Oprah Winfrey's Harpo Studios is assisting in the project.
Chip Dizárd, media director at Potomac Conference's Community Praise Center in Alexandria, Va., and media teacher at Digital Harbor High School in Baltimore, also explored how to impact the reporting. He met his senior class during the protests to begin filming a documentary. "We're teaching them how to tell their own story," Dizárd says. "I told them, 'Your job as a filmmaker is to let people see it from your perspective and make their own decisions.'"
2. Understand the Problem
Even before the unrest, Baltimore, like many urban centers, was troubled, explains Colin Wellenkamp, adjunct professor of public policy at Washington Adventist University (WAU) in Takoma Park, Md. From the 1960s through the 1980s, urban communities lost manufacturing jobs. Urban blight set in while businesses and professionals fled to the suburbs. Poverty, drugs and other social ills grew leading to a greater need for crime suppression.
According to the U.S. Census Bureau, nearly 25 percent of Baltimore City residents now live below the poverty level. Even the lack of a neighborhood supermarket can have a negative impact, Wellenkamp says. "If there are no resources in the community, the community starts to feel like it doesn't matter," he says. "The more abandoned [and] stressed the community feels, the worse the relationship with the police."
Wellenkamp grew up two miles from Ferguson and has worked as a public interest advocate consultant for Baltimore, Philadelphia and Washington, D.C., fighting for appropriations and legislative issues on Capitol Hill. He compares the social and economic environments in places like Baltimore to a room filled with gasoline—the spark that can ignite a community is its relationship with local police.
3. Find Solutions
Wellenkamp suggests a three-step process for improving police and community relations: hold police accountable through oversight technology, like body cameras; place greater emphasis on community policing programs that encourage officers to know the neighborhoods; and encourage municipalities, nonprofits—including religious organizations—and the private sector to work together to address social ills.
Pastor Taylor says AEC's local churches are already helping and plan to develop a learning center. "If you teach people, you can help them realize they can do better," he says. "You don't have to have money to keep your community clean."
Vincent Dehm, pastor of AEC's Recreation church in Baltimore, says his congregation will offer a free martial arts summer camp for young people taught by a top athlete. "If there's a 25-year-old in Park Heights, we can reach them by giving food, but we're not going to have a vast impact on their life," says Dehm. "But, if we have 100 kids who we can minister to for two hours a day, three days week, what kind of impact can we have?"
Celeste Ryan Blyden, union vice president for strategic communication and public relations, reports that the union executive committee in May voted to host a summit later this year to assess needs in the 10 major cities located within its territory. "We need to ask how we can come alongside our churches and ministries to create dialogue and partnerships that address current realities and challenges and make a transforming impact," she says.
4. Join the discussion
WAU held a Summit on Race and Justice in March to start a dialogue not often broached from the pulpit. The forum, hosted by the university's Center for Metropolitan Ministry and Center for Law and Public Policy, dealt with the issues in a constructive manner.
"The oppression is real and the frustration is understandable," says John Gavin, director for the Center for Metropolitan Ministry. "We have to work at understanding all the forces that make people angry and feel down and out." He adds that people have to try not to alienate one another. "Basically the way to improve race relations is to interact more," he says.
Potomac's Restoration Praise Center in Bowie, Md., also hosted a forum in April titled Social Justice and the Seventh-day Adventist Church. Dwayne Leslie, director of legislative affairs for the General Conference and discussion moderator, says Micah 6:8 instructs Christians to take moral high ground on social issues. "Let's keep the conversation going," he says. "The goal is to not be political, but there's nothing wrong with helping our fellow man."