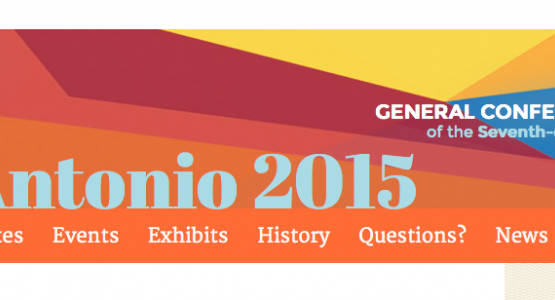 Who are the Columbia Union Delegates to the GC Session?
May 04, 2015 ∙ by Anonymous ∙ in Columbia Union News, This Month's Issue, Uncategorized
The following individuals are the Columbia Union Conference delegates to the 2015 GC Session in San Antonio.
Dave Weigley, Columbia Union Conference president
Rob Vandeman, Union Executive Secretary
Seth Bardu, Union Treasurer
Henry Fordham, Allegheny East Conference (AEC) President
William T. Cox, Allegheny West Conference (AWC) President
Rick Remmers, Chesapeake Conference President
Larry Boggess, Mountain View Conference President
José Cortés, New Jersey Conference President
Ron Halvorsen Jr., Ohio Conference President
Ray Hartwell, Pennsylvania Conference President
William Miller, Potomac Conference President
Marcus Harris, AEC Pastor
Albert Kelly, AEC Lay Member
Deborah Hill, AWC Lay Member
Lisa Burrow, Chesapeake Lay Member
Sedley Johnson, Chesapeake Pastor
Marisa Medina, New Jersey Lay Member
Sadrail Saint-Ulysse, New Jersey Education Superintendent
Pedro Simpson, Ohio Hispanic Ministries Director
Renee Battle-Brooks, Potomac Lay Member
Mark Sorensen, Pennsylvania Lay Member
Corrine Rawlins, Potomac Lay Member
Eliasib Farjardo, Potomac PastorYoung Adult Delegates
Marcia Moore, AEC Lay Member
Shaun Arthur, AWC Pastor
Jaime Rodriguez, Mountain View Pastor
Tara VinCross, Union Employee
Sanjay Thomas, Potomac Lay Member
Visit columbiaunionvisitor.com/delegates to learn what formula is used to select session delegates.