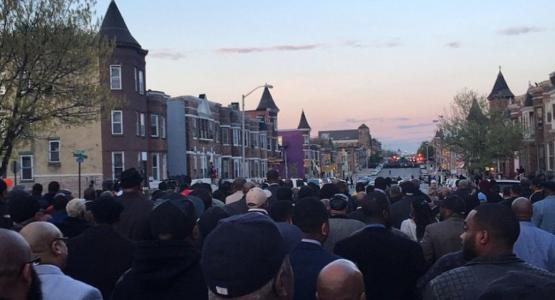 Baltimore Adventist Pastors Join Forces for Peace in Baltimore
April 27, 2015 ∙ by Anonymous ∙ in Columbia Union News
Baltimore Adventist Pastors Join Forces for Peace in Baltimore
Story by V. Michelle Bernard
Amidst looting and violence in Baltimore following the death of Freddie Gray, several Seventh-day Adventist pastors from area congregations joined the group of clergy who gathered to walk through the city in an effort to encourage the youth to cease rioting and go home.
Reginald Exum, pastor of the Edmondson Heights church; David Franklin, pastor of Miracle Temple; and DuWayne Privette, pastor of Sharon church, marched with the group.
"Tonight God used the clergy to prevent loss of life," says Pastor Exum. "I held gang members in my arms and we wept together. I also wanted them to know I understand their anger. I have been wrongfully slammed to the ground in Baltimore by police. Now they know they have a God and a pastor who empathizes with them."
Exum adds his church is already engaging the community in the healing process that was needed before tonight [Monday]. "Our mission is "Being Encouraged by Christ, Educating our Church, and Embracing our Community." EVERY ministry is geared to "embrace the community." The church has active Adventurer, Pathfinder, men's, women's and 50+ ministries to help the "community rise above the decay of this world," he says.
Pastor Franklin says he is urging his congregation to pray. "We do not want see anyone else being killed or harmed by the violence that has erupted. Going forward the systematic problems that perpetuated the violence must be addressed and we plan to work with local leaders to address those issues. Dr. King was right when he said that "riot is the language of the unheard." We to want give a platform for those voices to be heard," he says.
The Sharon church also hosted a special prayer line at 7:30 p.m. to pray for peace in the city.
Stay tuned for further updates.
*Story updated April 28. 9:50 a.m.
Read our other articles on this topic: