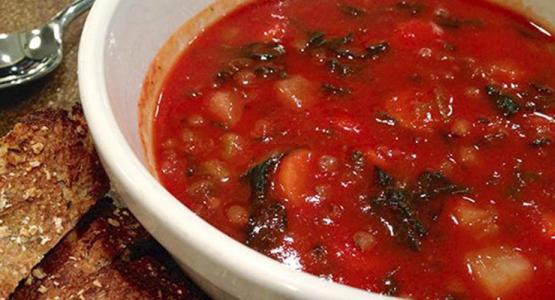 Healthy Lentil Soup Recipe
November 20, 2013 ∙ by Anonymous ∙ in Health & Lifestyle
Try Carole Butler's Lentil Soup Recipe!
1 Onion, chopped
1 cup Brown Lentils, washed
3 cups Potatoes, diced
2 cups Carrots, sliced
1 cup Celery, chopped
2 – 1lb. cans Tomatoes, puréed in blender
1 tsp. Salt
1/2 tsp. Sweet Basil
1/2 pkg. Frozen Spinach
Sauté onion and celery in olive oil until tender. Add lentils, potatoes and carrots, and sauté until the potatoes loose their rawness—stir often. Add 8 cups of water, bring to a boil and boil gently for about 30 minutes or until the lentils and vegetables are soft. Add puréed tomatoes, spinach, sweet basil and salt. Warm through until spinach is cooked. Best if made the day before serving.
Try our recipe for Faux Vegetarian Turkey!
You might also like this
recipe for Faux Vegetarian Turkey!