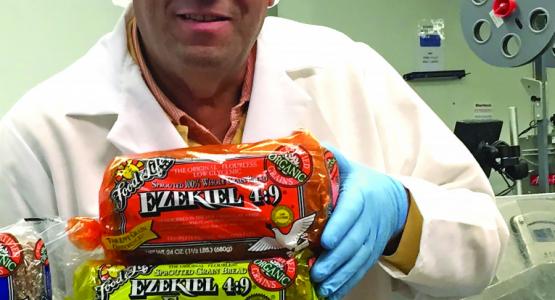 December 02, 2014 ∙ by Anonymous ∙ in Health & Lifestyle, This Month's Issue
Making a Better Bread
Story by Grace Virtue
Walter Alonso, vice president of operations at the Food for Life Baking Company's Maryland plant, has been dedicated to the task of giving the world a better bread. A member of Chesapeake Conference's Frederick (Md.) church, Alonso has been supervising, since 1982, the 75-employee plant on Highland View Academy's campus in Hagerstown that makes the Ezekiel 4:9 Bread.
Ezekiel 4:9 Bread is made from sprouted grains and omits flour, shortening or refined sugars. Alonso says inspiration for the bread came from God's instructions to the Israelites in Ezekiel 4:9: "Take also unto thee wheat, and barley, and beans, and lentils and millet, and spelt, and put them in one vessel."
"We use only the best ingredients and baking methods to ensure you get the most out of your food," Alonso says. "We use freshly sprouted, certified organic grains and all our products are kosher."
The bread contains 18 amino acids, which are essential to human growth and tissue repair. Sprouting, or soaking the grains in fresh spring water, breaks down enzyme inhibitors so the body more easily absorbs essential nutrients.
Ezekiel 4:9 Bread, available since the 1970s, has become the highest selling sprouted grain bread on the market. Find it and the company's other breads in the frozen food aisle of popular grocery chains like Trader Joe's.
Read more articles from the December issue
December Feature: Laughing Out Loud
The Truth About 5 Human Trafficking Myths
Underscore: Have Adventist Vegetarians Turned Into Carbotarians?
Making a Better Bread
December Sunset Calendar
Read the December Bulletin Board