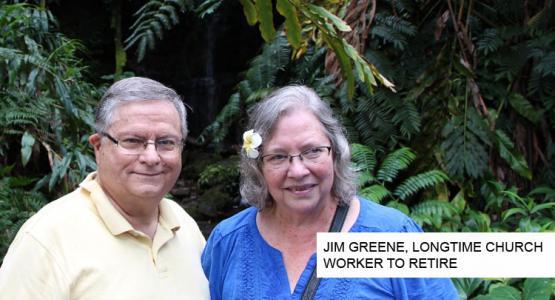 Jim Greene, Longtime Church Worker, to Retire
November 11, 2014 ∙ by Anonymous ∙ in Columbia Union News, New Jersey Conference
At the end of the year, Jim Greene, New Jersey Conference executive secretary, is retiring. "After so many years working together, it is not easy to say good bye to somebody like him," says José H. Cortés, conference president. "Jim has had an outstanding service record of 48.82 years!"
Story by Paolo Macena
At the end of the year, Jim Greene, New Jersey Conference executive secretary, is retiring. "After so many years working together, it is not easy to say good bye to somebody like him," says José H. Cortés, conference president. "Jim has had an outstanding service record of 48.82 years!" Cortés uses Proverbs 22:29 (GNT) to describe Green: "Show me someone who does a good job, and I will show you someone who is better than most and worthy of the company of kings.
Pastor Greene married Joyce Ann Keslake in October 1964. They have three children and two grandchildren. He graduated from Southern Adventist University (Tenn.) in 1967 with a bachelor's in accounting and a minor in religion. He has served the Seventh-day Adventist Church in different capacities, starting as an inventory clerk for the Southern Union Conference. He then served at the Wisconsin Conference; the Georgia-Cumberland Conference; Faith for Today and Adventist Media Center; Loma Linda University (Calif.); Washington Adventist University in Takoma Park, Md.; the Rocky Mountain Conference, where he was ordained in 2003; and, for almost nine years, at the New Jersey Conference. Green and his family were also missionaries in Indonesia.
Green says his highest joy came from serving in Indonesia and then returning to conduct evangelistic meetings. On his visit, several nationals who had never heard of Christ were baptized. "To see the change in their life after being introduced to Jesus is remarkable and thrilling," he says.
Green is also proud of the 35 percent membership growth in the conference in the past eight years. Green says the growth "has been possible due to the conference's strong commitment to evangelism and the hard work of our pastors and lay members."
Green will continue to work for the conference part-time.