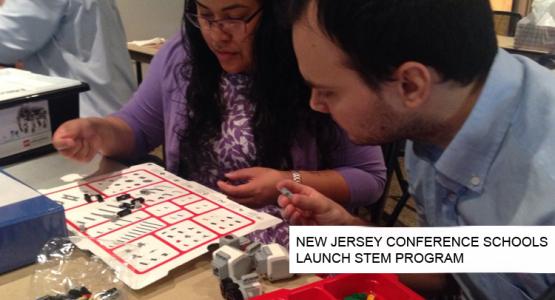 New Jersey Conference Schools Launch STEM Program
October 23, 2014 ∙ by Anonymous ∙ in Education, New Jersey Conference
After attending an EXSEED Conference at Loma Linda University in California, Sadrail Saint-Ulysse, superintendent of schools, started looking for ways to implement science, technology, engineering and mathematics (STEM) programs into New Jersey Conference schools. He and other administrators got to work and were able to start the 2014-15 school year with a new STEM emphasis.
Story by New Jersey Conference Staff
This summer the conference hired Ferdinand Lagos, a math, computers and robotics specialist, to teach at the Waldwick school and to serve as the conference's lead STEM teacher. He is developing and implementing the STEM program in the conference's five schools: Lake Nelson in Piscataway, Meadow View Junior Academy in Chesterfield, Tranquility in Andover, Vine Haven in Vineland and Waldwick. He also visits schools to assist teachers and principals with the implementation of the STEM program.
The conference also invested $15,000 in LEGO Robotics for the schools. At the teacher in-service, Lagos tutored principals and teachers and helped them experiment with robotics.
The conference also provides technology training and support to the schools through Alberto Vazquez, conference information systems support specialist. As a result, principals, teachers and students now use Google Apps for Education.
"We praise God for the support of our conference administrators for their tangible support in equipping us to give the best education possible to our students in a Christ-centered environment," says Saint-Ulysse. "Our teachers and principals are thrilled to begin the school year with the new emphasis in STEM."
Conference educators will continue to collaborate with other K-12 educators, organizations and higher education institutions to give the best to students in New Jersey Conference schools.
Pictured above: Dulce Morales, principal at the Vine Haven Adventist School, and Eder Dominguez, a teacher at the school, have fun learning about robotics.