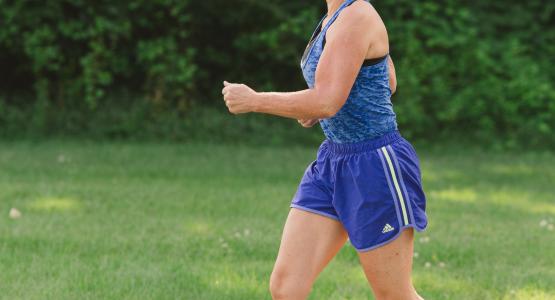 Creative Ways to Get in More Movement Each Day
August 05, 2014 ∙ by Anonymous ∙ in Health & Lifestyle, This Month's Issue
Sheila Case encourages others to set goals and suggests, "Use exercise as an outlet to achieve your dreams. It isn't easy, but the rewards are tremendous."
Photo Credit: Mary Wyar | Click here to read more of Case's story.
Studies show that excess sitting is linked to poor health. Leah Scott, Health Ministries coordinator for the Columbia Union, suggests these creative ways to get in more movement each day:
Stand for at least five minutes at the start of every meeting.
While chatting on the phone, walk around.
Set a timer to remind you to take a short stroll every hour.
Ask a colleague or family member to walk around as you sort out issues.
Request a stand-up workstation—many companies now provide them—instead of a traditional desk.
Wear a pedometer and set a daily step goal.
Read more from the August 2014 Visitor: