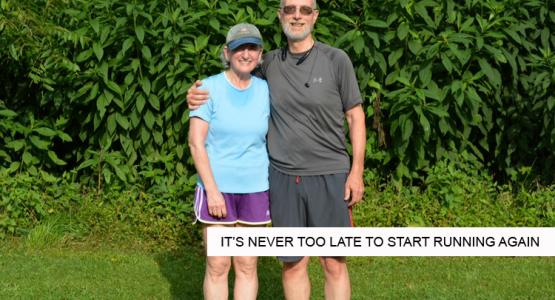 It's Never too Late to Start Running Again
August 04, 2014 ∙ by Anonymous ∙ in Health & Lifestyle, Pennsylvania Conference, This Month's Issue
Amy Williams finishes the Fit Family 5K at Pennsylvania Conference Camp Meeting.
Today she runs up to four miles every other day. But three years ago, Amy Williams' arthritis got so bad, she had to give up backpacking and had a hard time even walking.
Story by V. Michelle Bernard
Williams, 63, started running seriously when she was 33, but developed knee and hip problems and had to stop. She continued to hike and backpack and exercised regularly until her arthritis made it all too difficult/painful.
Williams, a member of Pennsylvania Conference's Mon Valley church in Belle Vernon, says her doctor told her she needed knee surgery, but she wanted to go another route.
Recovery was a long process that involved going to a chiropractor and eating more healthfully, says Williams. "After I changed my diet I lost weight and my [arthritic] inflammation went down and I was able to start running," she says.
Williams found that wheat and dairy irritated her arthritis, but cautions that the same might not be the case for everyone.
Williams says running has helped her with flexibility, mobility, bending, stooping, and makes her health numbers all around good. But, she has seen more than health benefits from her exercise program. Williams has also noticed that running has helped clear her so she can dwell more on spiritual things, like personal Bible studies.
She enjoys running with her husband, Bob, a pastor of several churches in the southwestern part of the Pennsylvania Conference. "It helps to have support and gives us something in common that we do together," she says.
Williams encourages other women her age to run. "It makes me feel alive and have more energy," she says. Even if it seems daunting to start exercising, she encourages others to start with a little bit of exercise and then build up. "It's never too late. I worried about myself getting older and not being able to run again. …But if I could do it, I know other people can too," she says.
Read more from the August 2014 Visitor: