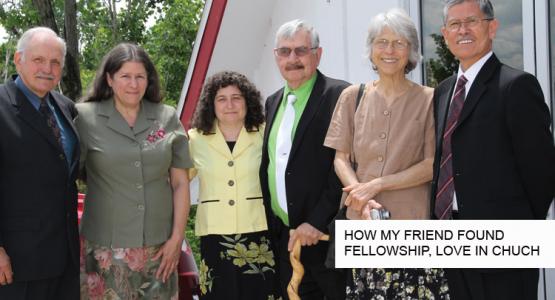 How My Friend Found Fellowship, Love in Church
July 30, 2014 ∙ by Anonymous ∙ in Mountain View Conference, Perspectives
My friend Dreama Yoak was lonely and looking for spiritual truth until recently, when a series of events dramatically changed her life and brought her into our church family.
Story by Chris Hasse
Dreama was first introduced to Seventh-day Adventists when Steve and Ginger Bond, Adventist Bible workers, visited the home she shared with her mother and sister, Gale, in Roane County, West Virginia. The women were often lonely but had a strong interest in spiritual things.
Dreama enjoyed worshiping with the Bonds and other church members at vespers. Her desire to join the remnant church grew, but many obstacles kept her from committing. She and her mother continued to keep the Sabbath while attending a nondenominational church, where she taught children about the Sabbath, the state of the dead, the second coming and the truth about hell.
It was during this time that I met Dreama and began a correspondence Bible study with her. I could sense the deep love for truth in the questions she asked, and she often wrote about her longing to have Sabbath fel- lowship with like believers. I invited her to ride to church with me. She gladly accepted, and soon we were spending a wonderful two-hour drive to church, talking about what God was doing in our lives.
During this time, another saga was unfolding in the life of Spencer (W.Va.) member Tom Yoak. Tom and his wife, Daisy, had joined the Spencer church through a series of evangelistic meetings they attended after accidentally taking the wrong turn. Since then, Daisy had died and Tom stopped regularly attending church. Hearing problems and the long distance caused him to stay home and watch sermons on 3ABN or listen to taped sermons. But, one Sabbath when he came to church, he met Dreama. After a short period, they fell in love and things started to change for both of them.
A year later, they got married in a private ceremony. They later renewed their vows in a ceremony performed by Daniel Morkone, pastor of the Spencer church. During that ceremony, Dreama became a member through profession of faith.
Tom and Dreama found love and companionship in each other, and the spiritual fellowship they'd longed for. This can happen when we depend on Jesus.