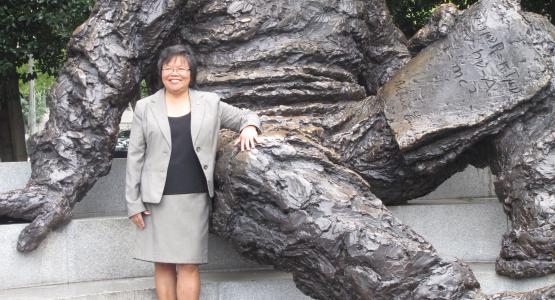 Einstein Fellow Returns to Head Highland View Academy Science Department
July 17, 2014 ∙ by Anonymous ∙ in Chesapeake Conference, Education
Einstein Fellow Returns to Head Science Department

Story by Lori Zerne
Ophelia Barizo, former science department chair and teacher at Highland View Academy for 17 years, returns to HVA as vice principal for advancement and STEM (science technology, engineering and math) coordinator following the end of her term as an Einstein fellow. She will teach classes, oversee the development program of the school and initiate a STEM program that integrates more technology and engineering into science classes to align with the changing paradigm of science instruction and learning across the country.
Barizo (pictured) is making changes in the science curriculum (now STEM) to align it to the Next Generation Science Standards (NGSS). One of the core disciplinary topics in NGSS is engineering, technology and applications of science, which has been lacking in previous science standards. She initially plans to incorporate robotics and manufacturing technologies, such as 3-D printing, into the curriculum.
Last year Barizo was an Albert Einstein Distinguished Educator Fellow at the National Science Foundation (NSF). She served her fellowship at the Office of Emerging Frontiers in Research and Innovation (EFRI) at the Engineering Directorate. The Einstein fellowship program offers STEM teachers who demonstrate excellence in teaching an opportunity to serve in the national education public policy arenas. As a fellow, Barizo provided practical insight and classroom perspective to policy makers and program managers, who are developing or managing education programs. At NSF, she developed educational resources on the high potential, cutting edge and transformative multidisciplinary engineering research that EFRI funds. She also coordinated and participated in teleconferences between project directors at NSF and principal investigators of $2 million research projects at various universities in the country. She was also involved in the Engineering Directorate's outreach to the K-12 community.
Part of Barizo's fellowship involved extensive professional development opportunities and traveling around the country and abroad, including an engineering conference in Venice, Italy. She also attended several congressional briefings on various STEM topics and STEM workshops in Washington, D.C. "This has been the most exciting professional development experience of my life!" Barizo remarks.
Some of her most memorable experiences included: being a VIP guest at NASA for the MAVEN launch to Mars; using a radio telescope to map for hydrogen in space at the National Radio Astronomy Observatory; visiting the CIA; attending various STEM conferences; networking with STEM professionals; and learning, forming friendships, and bonding with an amazing cohort of 26 Einstein Fellows from all over the United States. She is excited to share with her students and other teachers what she learned during her fellowship with her students and other teachers.