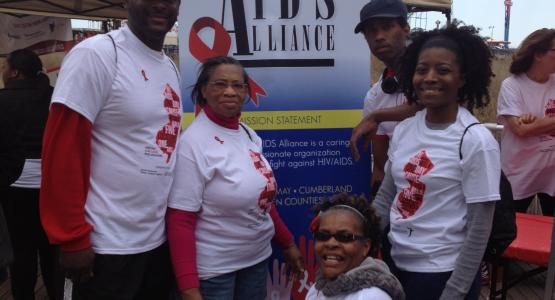 Union Funds 2014 Homeland Mission Projects
June 25, 2014 ∙ by Anonymous ∙ in Allegheny East Conference, Allegheny West Conference, Columbia Union News, This Month's Issue
Pastor Howard W. Duncan, Winsome Lawrence, Joyce Lane-Brewer, Ayvnne Hesterand and Jon Gray, all from the Bethany church, take to the streets to distribute HIV/AIDS prevention literature.
Union Funds 2014 Homeland Mission Projects
The Columbia Union Conference recently allocated $212,000 to 13 local outreach programs as part of its Homeland Mission Projects. The funds are distributed annually as a three-way partnership between the union, a conference and a local church to encourage community outreach. Below are three of the newest projects:
• Allegheny East Conference's (AEC) Collegiate Summer Outreach Project in West Philadelphia will offer inner-city kids fun activities that promote critical thinking and help them develop hands-on skills.
• Through AEC's Open Arms Ministry, Bethany (N.J.) church members will minister to the nearby Cumberland community, which is affected by high rates of HIV/AIDS and substance abuse. They will build a resource center on the church premises and distribute literature to residents.
• Members of Allegheny West Conference's Ephesus church in Columbus, Ohio, will start Driven, a church plant on the campus of The Ohio State University, which has 63,000 students.