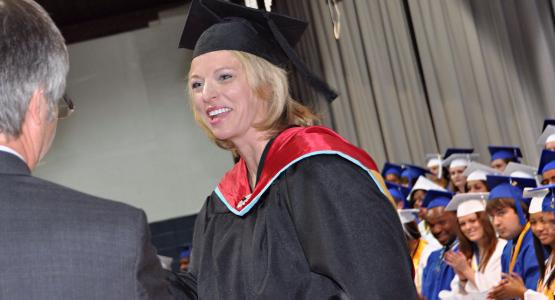 Three Teachers Receive Columbia Union's Outstanding Educator Award
June 04, 2014 ∙ by Anonymous ∙ in Allegheny East Conference, Columbia Union News, Education, Potomac Conference, Uncategorized
Cynthia Poole, an Allegheny East Conference associate superintendent, presents the outstanding educator award, to Myrna James. Principal John Alberty is pictured center.
 Two teachers from the Potomac Conference and one from the Allegheny East Conference were recognized for their pursuit of excellence in and outside of the classroom. 
Story by Taashi Rowe
Three teachers recently received the Columbia Union Conference Office of Education Outstanding Educator Award: Rebecca Durichek, a teacher at the Tree of Life Christian Preparatory School in Fredericksburg, Va; Gabrielle Griffin, at teacher at Shenandoah Valley Academy in New Market, Va.; and Myrna James, who teaches at the George E. Peters Adventist School in Hyattsville, Md.
By presenting this award, the union's education officials "seek to promote the recognition and appreciation of outstanding educators who have demonstrated consistent excellence."
Rebecca Durichek counts it a privilege to be awarded for teaching children about Jesus.
Janet Armstrong, principal at Tree of Life, says she admires Durichek, not just because of her dedication to Christian education, but also for her dedication to her students. "She is dedicated to their academic, spiritual and emotional development," Armstrong says. Durichek will receive her award this Sabbath at Potomac Conference's Fredericksburg (Va.) church where her husband will be preaching and her adult children will be present to celebrate with her.
Durichek says when she first found out she had been selected for the award, "I was shocked, thrilled and surprised. I just feel humbled to receive this recognition considering that there are so many great teachers out there. I do feel that other people share this award with me especially my husband who helps me with all the ideas I come up with. It is a privilege that I get an award for something that I love doing so much! I also love that I get to share Jesus everyday."
Durichek, who holds a bachelor's in elementary education from Southern Adventist University (Tenn.), has taught for a total of 12 years. After taking an 18-year break from teaching in a classroom setting, she joined the two-teacher faculty at Tree of Life about seven years ago. She now teaches 16 kids in first- through fourth-grade. At the end of the last school year, they were down to nine students, but finished this school year with 28 students. Armstrong and Durichek credit their growth to prayer and surveying and responding to community needs.
An Award Well Deserved
"This award is well deserved. Myrna James is one of the most outstanding teachers I've ever come across in my time working in education," John Alberty says of his vice principal. "And I'm not just saying that as a principal, but as a parent [because,] she had both of my children in her class. She is very structured, organized and provides rigorous, differentiated instruction for all of her students."
James, who received her award last Saturday night during George E. Peters' eighth-grade graduation exercises, has taught for 20 years. She teaches 21 students in the third and fourth grades and has spent the last seven years at G.E. Peters. She holds a bachelor's degree in English education from Washington Adventist University (WAU) in Takoma Park, Md.
James says hearing that she had won the award was an exciting moment for her. When asked why she thinks she won the award, she says, "I guess it's evident that I have a love of teaching and students. People can generally see how committed I am to Christian education. I always feel like it is my responsibility as a teacher to make sure to set expectations and standards for the parents and students and then willingly work with them."
"You Won, Didn't You?"
Gabrielle Griffin receives the Columbia Union Conference Outstanding Educator Award.
Gabrielle Griffin, an SVA alumna, just completed her 14th year at her alma mater. This past semester she taught around 130 students in three different courses: sophomore world history, junior American history and senior government. She was in the car with two of her three kids when she received the call about winning the award. "I was flabbergasted, but when I hung up the phone, they said, 'You won, didn't you?!' They had so much confidence in me."
Teaching was never on the horizon for Griffin who previously worked in public relations for an insurance company. She had sent in her résumé thinking she would do advancement and public relations there. However, SVA had a teaching opening, which turned out to be her true passion. In her government class, students take an in depth look at the criminal justice system, do mock trials and even visit the U.S. Supreme Court and the U.S. Congress.
"Ultimately, I'm very honored about winning the award," she says. "I also take it as a challenge to live up to the award. I always tell my [students], anything good in me comes from the Lord. I think it's true for all of us. … I just want everyone of my students to have a passion about Jesus and if I can do that even while teaching history, that's what's most important to me."
Griffin holds a bachelor's in history from WAU and a master's in teaching from Phoenix University.