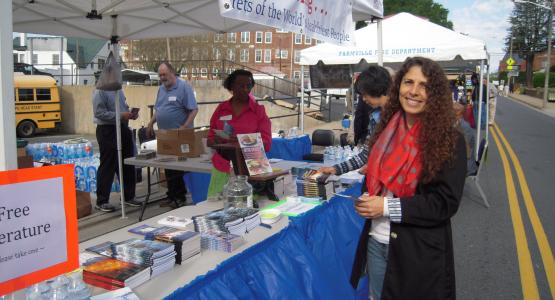 Farmville Members Minister to Thousands at Virginia Festival
May 28, 2014 ∙ by Anonymous ∙ in Health & Lifestyle, Potomac Conference, Uncategorized
A festival attracting some 30,000 attendees to Central Virginia proved to be the perfect opportunity for the small, Farmville (Va.) church to share the unique beliefs of the Seventh-day Church.
Story by Dan Daniels
Farmville members get ready to welcome passersby to the Heart of Virginia Festival.
When members of Potomac Conference's Farmville (Va.) church heard about a community festival with a classic car cruise-in, an art workshop, a fireworks show and local entertainment, they knew they had to be in the middle of the fun! So, on a recent Sabbath morning, members gathered on High Street in downtown Farmville for their first experience as a community outreach participant at the Heart of Virginia Festival. For about six hours, some 14 members manned two booths that featured a banner proclaiming "Radiant Living: Secrets of the World's Healthiest People."
During that time, they made contact with thousands of people attending the festival. They distributed many cases of literature promoting improved physical and spiritual health and the gospel message. They also gave away 700 bottles of water with labels that introduced them as friendly members of the local Seventh-day Adventist church. The sticker also proclaimed Jesus as the only one Who can give living water. Members also held a drawing for a free cookbook and collected contact information so they could invite their neighbors to future programs.
Two smaller tables were set up for people who wished to have their blood pressure checked. This allowed people to sit for a few minutes and provided church members with an opportunity to offer health and lifestyle counseling. "We felt a close bond with those we prayed with and look forward to seeing them in our church one day," said Charles Shultz, the church's pastor.
Two young ladies from China took a special interest in the group as did a Buddhist family from Sri Lanka, a Hindu family from India and a Muslim family from the Middle East.
The church's participation in the event was made possible with through an evangelism subsidy from the Potomac Conference and all agreed that the festival was a wonderful way to connect with the community. They plan to do it again next year.