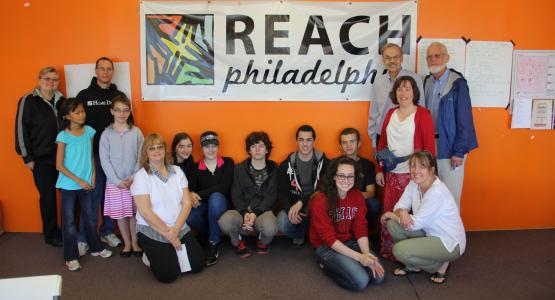 Chesapeake Members Lend a Hand in Philadelphia
May 28, 2014 ∙ by Anonymous ∙ in Chesapeake Conference, Pennsylvania Conference, Uncategorized
What happens when a call for help via social media inspires a local church to help a sister church in another conference? 
Story by Samantha Young
JoDee Ketter and Donna Godlove assemble boards for the raised garden beds.
A group of 15 from Chesapeake Conference's Williamsport (Md.) church recently went on a mission trip but never left the country. Kandace Zollman, associate pastor at Williamsport, noticed a post on Facebook that caught her attention—a call posted by Tara VinCross, pastor of the Pennsylvania Conference's Chestnut Hill church in Philadelphia, for laborers to come assist in work the church is doing in the inner city.
"Hundreds of young people have been blessed by having the opportunity to travel to another country and minister to others on mission trips. But airfare is expensive, fundraising is difficult and parents are often uncomfortable with their children leaving the country without them," says Zollman. So she was looking for a way to do mission work without these complications.
REACH Philadelphia is a young church that the Chestnut Hill church planted less than three years ago. The group purchased an old nightclub and has a vision to renovate it into a ministry center where community needs are identified and met. Urban agriculture, student tutoring, a fitness center and a vegetarian café will all play a role in meeting the spiritual needs of those in the community.
So several adults and a few students—four from the nearby Highland View Academy (HVA)—traveled from Maryland to Philadelphia where they spent three days shoveling, spreading mulch, tearing up plywood, picking up trash, hauling books, meeting neighbors, cleaning up messes and doing whatever was needed.
"The Williamsport group was incredible. They did a great job and were really supportive," says VinCross.
Volunteers gather at the worksite, a former inner-city nightclub slated to be a new ministry center.
Emily Mills, a junior at HVA, observed that most of the REACH church members are young adults, and she was struck by their strong commitment and faith. "They are some of the most spiritual, on-fire-for-God people I have ever met," she says. Mills appreciated the warm informality of the Sabbath worship service, too, that began with an invitation to share "what God has done for you this week."
The group returned to western Maryland with a vision for impacting their own community, Zollman says. The Williamsport church has plans to send another group to Philadelphia this month to help the REACH center meet its goal of having a grand-opening ceremony in mid-September.
To learn more, or volunteer to help, visit reachphiladelphia.org, or email reachphila.missions@gmail.com.