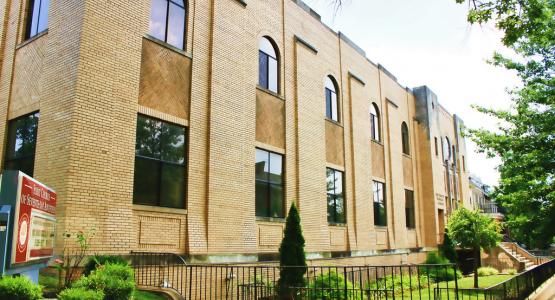 Book Release: Miracle of Courage, Color and Christ—The History of the First Church
May 21, 2014 ∙ by Anonymous ∙ in Allegheny East Conference, Uncategorized
Pastor Roland J. Hill holds high a copy of a recently released book that chronicles the history of the First church.
Story by Rhonda M. Covington
Douglas Morgan, PhD, a history professor at Washington Adventist University in Takoma Park, Md., wrote this limited edition, coffee table book about the oldest Seventh-day Adventist Church (established in 1889) in Washington, D.C., and the Columbia Union. In the book, Morgan highlights how:
The Three Angels' messages came to the nation's capital before and beyond Takoma Park
The church brought black and white together in its early years and resisted the tide of segregation in the nation and the denomination with the transforming power of the gospel
Ellen G. White, Adventist church co-founder, conducted weeks of prayer during the church's early days and how many other Adventist pioneers helped build up the church, including Uriah Smith, Alonzo T. Jones Harvey Kellogg and A.G. Daniells
The church became a base for opposing the national Sunday law and advocating religious liberty on Capitol Hill
The church grew and thrived despite the strictures of segregation and became a thriving center for spiritual vitality, education, fellowship and community outreach
Legendary Bible worker Ethel Hall and scores of other women powered church life and mission
The landmark evangelistic campaigns of Lewis C. Sheafe (1902-103), E.E. Cleaveland (1958) and C.D. Brooks (1978-1979) took the church's mission to higher levels
Church members and pastors helped move the entire denomination toward racial unity and justice
Extraordinary pastoral leadership has blessed the church and how these men and women of God have each made distinct contributions
Donations will be accepted for the book to fund planned renovations, which include installing an elevator and a third floor. For copies of the book, contact the church at secretary@fcsda.org.