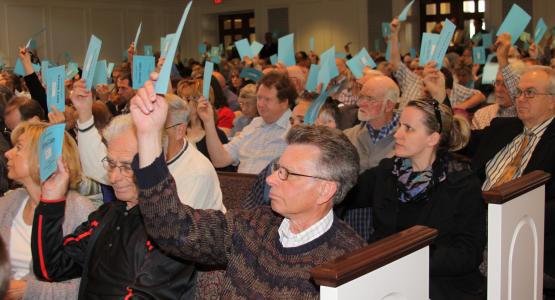 Delegates Elect Officers to Continue Vision for Ohio Conference
May 19, 2014 ∙ by Anonymous ∙ in Ohio Conference, Uncategorized
At yesterday's constituency session, Ron Halvorsen Jr., was elected president of the Ohio Conference and Oswaldo Magaña was elected executive secretary. A new treasurer was also elected. 
Story by Heidi Shoemaker; Photos by Mariya Marton
Oswaldo Magaña, who was elected executive secretary, and Ron Halvorsen Jr., who was elected president, flank their wives Herlinda and Buffy.
During Ohio Conference's 41st Regular Constituency Meeting, held May 18, more than 400 delegates and delegates-at-large filled the Worthington church in Worthington and elected new administrators to lead the conference during the 2014-2018 term. President Ron Halvorsen Jr., who joined the conference family in February, was elected to office by an overwhelming majority of the vote. Director of Clergy Care and Leadership Development, Oswaldo Magaña was elected executive secretary and will continue to hold both positions. Earlier this year, the nominating committee opted to separate the treasurer and secretary positions, and a new treasurer was elected, but at press time has not officially accepted.
During the last quadrennium, membership has gradually increased from 11, 446 in 2010 to 11,655 at the close of 2013. Tithe for the same period increased by 2 percent from $9,223,240 to $9,427,240. Departmental reports were shared at well-attended town hall meetings this spring, and highlighted the explosion of activity in the youth department, community outreach at Camp Mohaven and exponential expansion of Hispanic Ministries during the past four years.
Stressing he is more pastor than chief executive officer, Halvorsen shared, "I am concerned with strengthening local churches, strengthening our local schools."
Addressing the conference's pending budgetary deficits, Halvorsen shared, "The Lord has called me to be president of your conference … You need to know how much I care about the wellbeing of this conference. It seems to me we are at a juncture—not just Ohio, but as a church—where we are going to have to ask ourselves just how serious are we about the mission we've been called to [in this conference]." Halvorsen elaborated on what could be done to "right this ship," and closed his remarks by praying "you and I will be people that will put it on the line for Him."
Ohio delegates vote during the 2014 constituency session.
Other business conducted included the election of the conference executive committee and reports from the articles and regulations committee and Mount Vernon Academy (MVA) Board of Trustees. The meeting concluded with a DVD from MVA featuring academy highlights and comments from principal Dan Kittle, who emphasized their commitment to "powerful relationships" with members across the conference, alumni and other organizations. "I extend to you the offer to partner with Mount Vernon Academy to build futures for the kingdom of God," he said while sharing details about their strategic plan, Destination 2016, a vision for growth for the academy.