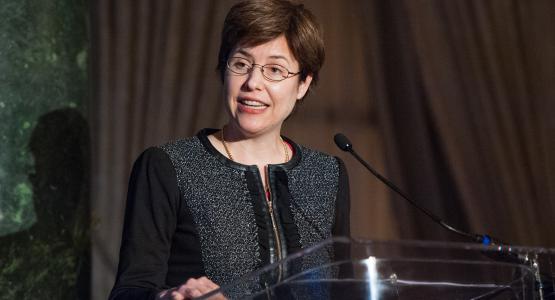 Adventists Host 12th Religious Liberty Celebration in D.C.
May 07, 2014 ∙ by Anonymous ∙ in Uncategorized
The annual event was well attended by Columbia Union members; featured keynote address by senior White House official 
Story by Ansel Oliver/Adventist News Network
White House Official Melissa Rogers, who is President Barack Obama's principal advisor on faith issues, delivers the keynote address at the 2014 Religious Liberty Dinner on Wednesday, April 30 at the Willard InterContinental hotel in Washington, D.C. [photo: Ansel Oliver]
Last Wednesday the International Religious Liberty Association, the North American Religious Liberty Association (NARLA), Liberty magazine and the Seventh-day Adventist Church hosted their 12th annual Religious Liberty Dinner in Washington, D.C.
The annual dinner has become a tradition in the U.S. capital—referred to by one of the evening's honorees as "the best religious freedom party in town"—and underscores the case of the hundreds of millions of people who are mistreated because of their faith, now more than 60 years after the United Nation's Universal Declaration of Human Rights.
The annual gathering honors those who work to protect and promote religious freedom and draws members from the diplomatic community, U.S. government, religious leaders of various faiths and religious freedom advocates.
READ MORE AT ADVENTIST NEWS NETWORK