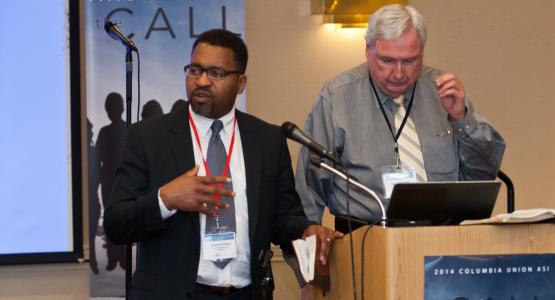 Columbia Union ASI Members 'Answer the Call'
April 30, 2014 ∙ by Anonymous ∙ in Columbia Union News, Uncategorized
Story by Taashi Rowe; Photos by A. Kiiza/KIZPICS
Emanuel Pelote, CUASI president, and Bob Folkenberg, ShareHim founder, address attendees. | Photograph by A. Kiiza
Some 150 people 'answered the call' and attended the Columbia Union Adventist-laymen's Services and Industries (CUASI) convention, held April 17-19 in Bethesda, Md. Themed "Answering the Call," this year's convention was designed to encourage and equip everyone called to serve the Lord in new ways this year.
The meeting was held, for the first time, outside of a local church. The results? "I think we did really quite well," shared Emanuel Pelote, CUASI president. "When we were joining a church for their regular Sabbath services it was difficult to tell how many people came for ASI. This year we are making some progress. Quite a lot of people applied to join ASI and some even registered early for next year's convention."
While the location changed, several staples remained, including powerful speakers, testimonies from fellow ASI members and an exhibit hall for members to share their ministry projects. Speakers included Karl Haffner, a prolific author and pastor of Ohio Conference's Kettering church in Kettering Ohio; Gary Wimbish, pastor of Allegheny East Conference's Columbia Community church; Bob Folkenberg, former General Conference president and founder of the ShareHim ministry; and Dave Weigley, president of the Columbia Union Conference.
Dave Weigley, Columbia Union president, talks to attendees about finding the "sweet spot" in life. Photograph by A. Kiiza
Weigley, who presented the Sabbath sermon titled "Discovering the Sweet Spot in Life," talked about becoming meaningfully engaged in the mission of the church. Using the story of the rich young ruler in Matthew 19:16-26, Weigley said a happy, fulfilled life has nothing to do with money. Instead the secret is encoded in the two words that Jesus gave the young man, "Follow me."
Highlights from the Sabbath day included a conversation with the Kings Messengers, a group based in Baltimore that spoke via a live video link about how they were ministering to prisoners in Uganda that week. Because of their efforts some 180 prisoners were baptized. Shalini David, co-founder of Crystalis a Maryland-based nonprofit, talked about how she worked with fellow young adults to start an orphanage in Uganda. Attendees also participated in a tour of the White Estate, met with General Conference leaders, attended workshops focused on empowering and equipping those with new and established ministries alike and ASI members participated in special strategic ministry planning sessions.
Steve Dickman, vice president for ASI national, and Shalini David, co-founder of Crystalis, share their testimonies. Photograph by A. Kiiza
"At ASI, I met members who combine their talents, interests and business resources for the sake of ministry and mission. I would love to see more of them join ASI to share interests, talents, skills, resources and their passion for ministry," said Celeste Ryan Blyden, the Columbia Union vice president for strategic communication and public relations who Weigley introduced that day as the new Columbia Union sponsor for CUASI.