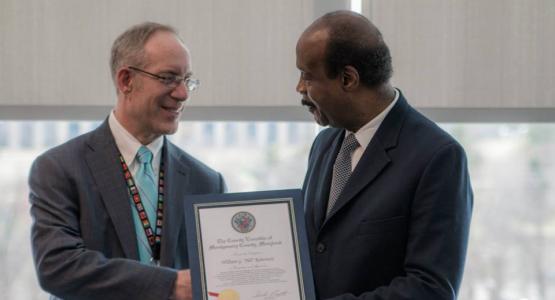 Political Leaders, Community Fete Former Adventist HealthCare CEO
April 09, 2014 ∙ by Anonymous ∙ in Adventist HealthCare, Uncategorized
Story by Adventist HealthCare; Photos by Tracey Brown
Dave Weigley, president of the Columbia Union Conference and chairman of the Adventist HealthCare Board of Trustees, gives farewell gifts to Bill and Della Robertson at a March 26 event in Rockville, Md.
Numerous Maryland politicians and community leaders joined Adventist HealthCare (AHC) executives and employees in March and April to honor William G. "Bill' Robertson, AHC's former president and chief executive officer. Robertson ended his 14-year tenure at the helm of AHC on April 4, to take a similar role with a health system in Tacoma, Washington.
On March 26 several community leaders, along with fellow Columbia Union Conference Executive Committee members, feted Robertson at a farewell reception and dinner in Rockville, Md. Mid-Atlantic Adventist HealthCare, AHC's parent company, hosted the event to thank Robertson for his service. Those in attendance included Thomas Perez, U.S. Secretary of Labor; Harold Lee, former Columbia Union president who recruited Robertson to Maryland; and community leaders of several boards that Robertson served on.
"Bill is leaving Adventist HealthCare with a legacy of strong, responsible leadership," said Dave Weigley, president of the Columbia Union, at the event. "Bill's a legend not just for the length of time he served, but also because he was so passionate about leading the organization to intentionally embrace the Adventist Church's mission. I will miss him as a friend and leader."
Thomas Perez, U.S. Secretary of Labor, was one of many public officials to say farewell to William G. "Bill" Robertson.
The final event, featuring AHC employees and Montgomery County political leaders, was held April 2 at AHC's corporate offices in Gaithersburg, Md. Isiah Leggett, Montgomery County Executive, thanked Robertson for his leadership on both health and business issues and provided him with a proclamation for his service to the community.
George Leventhal, a Montgomery County councilmember, remarked how Robertson had helped AHC become the largest health-care provider of charity and uncompensated care in the county. Uma Ahluwalia, director of Montgomery County's Department of Health and Human Services, credited Robertson for helping the county and state create job strategies, knowing that employment is a key part of a person's health.
Finally, Gaithersburg Mayor Sidney Katz declared April 2 "William G. 'Bill' Robertson Day" in the city. He thanked Bill for his compassion, leadership and friendship.