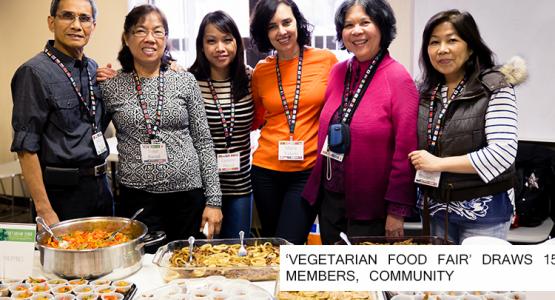 Potomac Church's 'Vegetarian Food Fair' Draws 150 Members, Community
April 08, 2014 ∙ by Anonymous ∙ in Health & Lifestyle, Potomac Conference
What happened when Sligo church turned its fellowship space into first-class vegetarian restaurant?
Story by Don W. McFarlane; Photos by Paolo Esposito
Heavy rain and unexpected snow did not thwart the interest and passion of approximately 150 eager food enthusiasts who attended Sligo church's International Vegetarian Food Fayre, dubbed "Vegetarian Food From Around The World" in Takoma Park, Md.  Community guests, who made up more than half of the attendees, came from as far afield as Columbia, Md., and Charlestown, West Virginia, having responded to personal invitations, social media, posters and radio ads. Organizers at the Potomac Conference church had in mind a three-pronged objective for this March 30 event: building relationship with the community, providing attendees with the know how to prepare healthful and tasty meat-free meals and introducing a new health course to members of the community.
The Sligo church fellowship space was transformed into what some described as a 'top class restaurant ' for the event.  The tasty offerings, representing dishes from Asia, the Caribbean, India (an Asian category on its own), Italy, Latin America, the Middle East and the United States of America, were eagerly gobbled up by gastronomically-discerning guests.  Portions were taste size, but by the time guests had repeatedly been to every food station, they had had the equivalent of a full meal, complimented by a variety of lip-licking smoothies.
Not only were guests able to sample the mouth-watering dishes, they were also treated to several demonstrations of how those dishes were prepared as they were taken on a sizzling, bubbling and aroma-filled journey by seven  'chefs' and a smoothie connoisseur.  Appreciative applause filled he atrium after each demonstration.  One guest later requested the addresses of the restaurants that prepared the food for the occasion, expressing enormous surprise when he was told that the dishes were all prepared by 'ordinary' members and friends of Sligo church and that none of the demonstrators worked as a professional chef.
Some of the statements and comments heard from attendees included:
"I have driven past this building for years but this is the first time I have come inside."  "I plan to visit again."
"When do your services begin?"
"How often do you have an event like this?"
Guests left at the end of the afternoon with an enhanced appreciation of vegetarian food and how it is prepared, as well as an understanding of what Sligo church is able to offer in the area of health and other areas of interest. In addition, several left laden with gifts, which they had received and prizes won, ranging from books, gift baskets and a Magic Bullet blender.
The glow on the faces of the organizers as they packed up and cleaned up at the end, suggested that they were already thinking of a repeat performance next year and how to continue making Sligo church a place that the public choose to enter and a house of prayer and praise for all people.
"A 10 out of 10 event," exclaimed one impressed attendee.